Heico Sportiv Volvo V40 Green Racing
The Volvo V40 is still pretty fresh. But Heico Sprotiv – sort of an official tuner house for Volvos – did make haste and came up with this: a bio-diesel sport edition V40. It's a part of Heico's initiative called "Green Racing" and thus it's strictly for the track. But don't despair as a followup project will give birth to a street version as well.
Heico have been personalizing Volvos for years now by providing accessories and parts. You can drive up to them with whichever of the mainstream Volvo engines and they will have an e.motion ECU upgrade for it. A range of sonorous exhaust systems, suspension and brake kits and Volution wheels are also available. The carbon fiber body kit here is pretty much identical to the one that will go on the road-going ones. At the very least, the diffusor will be the same. You won't get the flaring wheel arches and we are not sure about that rear wing.
The V40's D5, 2.0-liter 5-cylinder diesel engine has been remapped to produce 300 hp and a max torque of 600 Nm. The idea is to tackle a number of 2013 long-distance competition such as the the 24 Hour Race at the Nürburgring. Having a torquey fuel-sipper on the line always spells success at the end of the day.
Visitors at the Auto Mobil International (AMI) exhibition in Leipzig will have the privilege to be the Heico Volvo V40's first spectators. The stand will be open from the 1st of June to around the 10th.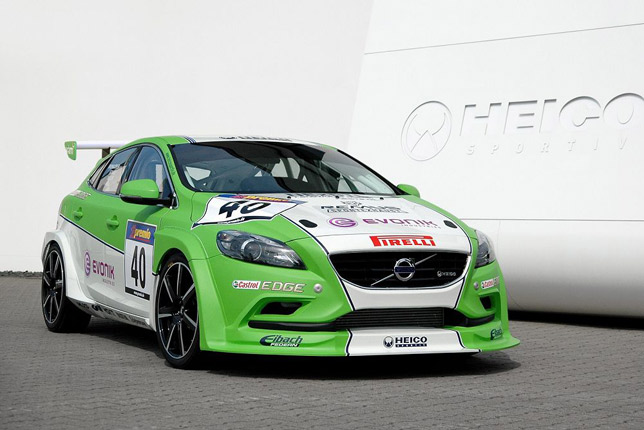 Source: Heivo Sportiv