HPerformance Tunes Two Audi TT RS Models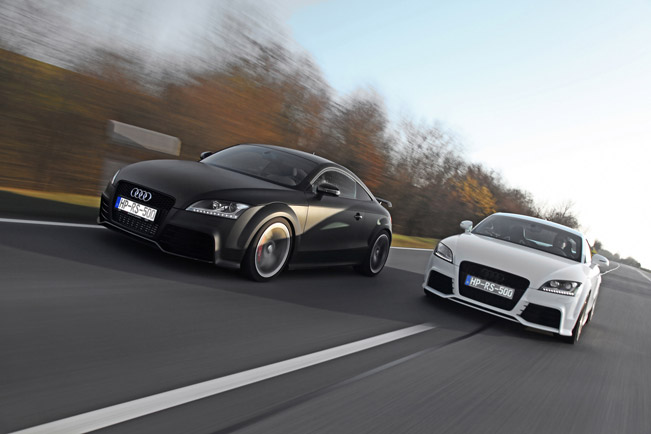 Not one but two Audi TT RS models were tuned by the German specialists at HPerformance. The main goal was to make them more individual than ever with the help of crafted rough materials as stainless steel, aluminum and carbon.
Both vehicles make the perfect contrast to each other – one has a glossy white paint finish and the other comes in mat black. They were equipped with company's exhaust system, which is type "sound at will". Precisely, the turbocharger here has 80-mm pipe beginning from on one side, and on the other with two 76-mm pipes.
Then, the cars were equipped with HJS racing cats and valve commands that are adjustable via key switches or remote control. The intercooler was made of aluminum and the upgrade turbocharger HPXT-510 sports Hperformance suction system "street" with 80 mm suction pipe. The latter optimizes the intake manifold and RAM air charging behind the front.
In terms of power, both Audis make a big impression. Their force has been enhanced via a special ignition plugs and software adaptation, which eventually results in 500 hp (368 kW) and 660 Nm (487 lb-ft) of torque.
What is the difference except for the exterior color? Well, the white TT RS got Hperformance clutch upgrade with single mass flywheel, reinforced pressing plate and sintered metal friction washer. On the other hand, its mat black sibling received a step 3 DSG adaptation.
At last, both TTs has been equipped with Bilstein B16 coilovers, H&R stabilizers, all around installed ceramic braking systems and steel flex braking pipes.
Source: Miranda Media