2013 Hyundai GENESIS COUPE
2013 Hyundai Genesis Coupe has just made its North American debut at the North American International Auto Show. The highlights about the refreshed and significantly redesigned model are the impressive performance upgrades, the more aggressive coupe styling, the improved interior materials and design. It also includes both 4-cylinder and V6 engines, which benefit from significant technology enhancements. On the other hand with the 3.8-liter V6 engine it receives sophisticated direct-injection technology and with the the 2.0-liter turbocharged engine it upgrades to a more precise twin-scroll turbocharger and larger intercooler. These two vehicles are of course with automatic transmissions and 8-speeds, with paddle-shift SHIFTRONIC® manual-shifting capability.
The refreshed 2013 Hyundai Genesis Coupe captures the attention with aggressively redesigned front fascia, grille, headlights, LED daytime running lights, fog lights and hood with heat extractor cues. The side view reveals new, aggressive 18- and 19-inch alloy wheel designs with deeper dimensional sculpting. Eventually, the rear taillights provide a visual spark via premium LED illumination and new contours. Nevertheless the traditional rear-drive sport coupe proportions remain the same. Moreover Genesis Coupe's arching roofline and tapering greenhouse highlight the exterior. And to make everything perfect the depth between the fenders and the greenhouse has been maximized. In addition enlarged openings in the front fascia allow for better engine breathing along with a more aggressive look. At last, dual asymmetrical exhaust tips integrated with the blackout rear diffuser treatment complete the performance.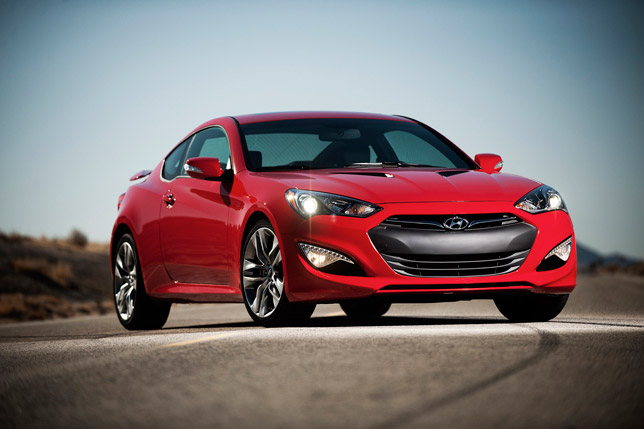 The two Genesis Coupe engines have been significantly upgraded. In particular the 3.8-liter Lambda DOHC V6 engine adds sophisticated direct-injection technology, adding 42 horsepower (a generous 14 percent increase) and 29 lb.-ft of torque (an 11 percent increase). Peak horsepower rises to 348 (255 kW) at 6,400 RPM, with peak torque increasing to 295 lb.-ft. (218 Nm) at 5,300 RPM on premium fuel. Additionally the unique lambda-engine anti-knock technology allows the V6 engine to run on regular fuel. The result is a possible acceleration from 0 to 60 mph in less than 5 seconds. The top speed is electronically limited to an impressive 149 mph. Additionally the 3.8-liter engine uses Dual Continuously Variable Valve Timing (Dual CVVT) and a Variable Intake System (VIS) that helps cylinders breathe most efficiently at both low and high RPM. The result is an outstanding throttle response and off-the-line acceleration combined with remarkable fuel efficiency. All these new technologies are included in order to give Genesis Coupe 3.8 an impressive power-to-weight ratio of only 10.0:1. On the other hand the turbocharged, intercooled 2.0-liter DOHC inline four-cylinder substitutes a new twin-scroll design for its turbocharger in addition to a larger intercooler with enhanced thermal efficiency. This twin-scroll design is more efficient at recovering exhaust energy and produces cooler cylinder temperatures than. Furthermore it is also more precise, with improved combustion efficiency, reduced turbo lag, leaner air/fuel ratios and more evenly distributed pressure in the exhaust ports. All of this results in improvements in power, efficiency and emissions. The 53 percent larger intercooler further reduces the intake temperatures, providing denser, cooler air from which to develop even more power. This turbocharged engine also benefits from Dual CVVT on both intake and exhaust camshafts. The 2.0-liter turbo now generates 274 horsepower (201 kW) and 275 lb.-ft. (203 Nm) of torque on premium fuel. The highlight here is that the turbo's anti-knock sensors automatically adjust ignition timing and engine mapping to run perfectly on regular fuel, yielding 260 horsepower (191 kW) at 6,000 RPM and 260 lb.-ft. (191 Nm) of torque at 2,000 RPM. The turbo engine also features a cast-aluminum cylinder block and cylinder head. All these improvements give the Genesis Coupe 2.0T a great power-to-weight ratio of 12.3. Both V6 and 4-cylinder engines also feature deeper, baritone-sounding dual cat-back exhausts to complement more efficient breathing on the intake side. To ensure that all this new power is evenly distributed to the pavement, Genesis Coupe also offers an available Torsen® limited-slip differential on R-Spec and Track models. Genesis Coupe's body shell makes generous use of ultra-high-tensile steel. The rear-wheel drive powertrain configuration provides a well-balanced 55:45 front-to-rear weight distribution for the 2.0T, and 56:44 for the 3.8 model.
The new 2013 Hyundai Genesis Coupe has newly tuned sport suspension: spring, damper, and bushing ratings all have been precisely recalibrated to match these new powertrains. Of course they are not on the account of the road feel, precise body motion control and ride comfort, which are now all improved. Moreover Genesis Coupe employs a MacPherson strut dual-link front suspension and a five-link rear suspension setup. In more details, the front suspension is mounted to the body via a solid subframe that is lighter and stronger than a comparable multi-piece component would be. And in order to help reduce body roll and tune the cars at-the-limit handling for maximum predictability, there are fitted 23-mm diameter front and 19-mm diameter rear stabilizer bars. Another important fact that has to be mentioned is that the high-performance Genesis Coupe R-Spec and Track models raise the bar even higher with differentiated, track-tuned suspension calibrations. To be more precise, the R-Spec/Track suspension features both firmer front spring rates and rear spring rates with matched damper rates. The Genesis Coupe R-Spec/Track models also deliver a significant increase in roll control over other versions of the Genesis Coupe via thicker stabilizer bars (24mm front/20mm rear). Of course all models receive improved low-velocity-control dampers for refined ride comfort combined with improved body control. What about the suspension of the car: it uses hydraulic, RPM-sensing rack-and-pinion steering which now has been recalibrated with a quicker 13.8:1 ratio. The new models are also with further optimized driver ergonomics, and telescopic adjustment. The transitions mated with the both engines are the standard six-speed manual transmissions. However they have been significantly to provide more driver-friendly shift gating and balanced weighting precision. Additionally the clutch take-up, feel, and engagement characteristics also have been refined for optimum shifting ease and feel. Both engines now offer an in-house-developed eight-speed automatic with paddle-shift SHIFTRONIC® manual-shifting capability. In addition to the steering wheel-mounted paddle shifters, each automatic offers shift capability via the shift lever. Of course Hyundai can not go without high performance braking systems used in the design of the new 2013 Genesis Coupe. And as usual there are Brembo® four-piston calipers clamp down on fade-resistant 13.4-inch ventilated front brake rotors and 13-inch ventilated rear rotors on both R-Spec and Track models. However, all other models get substantial 12.6-inch front ventilated rotors and 12.4-inch rotors in the rear with floating single-piston calipers.
The 2013 Genesis Coupe interior has been significantly improved. It now has more distinctive, upscale features and design cues. Firstly the instrument panel crash pad features a stitched-seam appearance. Secondly, the parking brake lever is leather-wrapped on leather-equipped models. Next, the instrument cluster now features an electroluminescent gauge cluster for premium ambience and superior readability. In addition a new driver-side rear seat walk-in assist function has been added for more convenient rear seat access from the driver's side. Further options are: driver seat power lumbar support; front seatback; a center stack multi-gauge cluster with instantaneous mpg, torque level (3.8 models) or turbocharger which boost pressure (2.0T models) and oil temperature; a center fascia tray with cover; interior surfaces with softer touch and lower sheen; sport front seats with deep side bolsters; Infinity® premium audio system; two-stage front seat heaters. Genesis Coupe also offers the convenience of a Proximity Key and push-button start. Furthermore the model also features innovative technologies such as Xenon high-intensity discharge (HID) headlights, which deliver brighter illumination intensity, more daylight-like lighting character and reduced power consumption. And for the audiophiles the new Genesis Coupe has a standard auxiliary input jacks (3.5 mm mini-jack and USB input) to accommodate and charge personal audio devices such as an iPod®. Of course the new Hyundai Blue Link telematics is available on 2013 Genesis Coupe, however with a 90-day complimentary trial period. The Blue Link platform is available on 3.8 Grand Touring/Track and 2.0T Premium trim levels. Blue Link can be accessed from the buttons on the rearview mirror inside the Genesis Coupe, the web and via smart phone. In addition the Blue Link System is offered in three telematics service packages: Assurance, Essentials and Guidance.
Other important features are the included safety technologies. The 2013 Genesis Coupe has a wide range of both active and passive safety features. For example a standard safety technology includes driver and front passenger advanced frontal airbags, front seat-mounted side airbags, side air curtains and active front head restraints. The vehicle is also built with strong body construction; front and rear crumple zones; bodyside reinforcements and five-mph energy-absorbing bumpers. The hood also includes buckling creases and safety stops. In addition the front seatbelts have pretensioners and force limiters, and the rear seats feature LATCH (Lower Anchors and Tethers for Children), which make affixing child safety seats easier. Furthermore all Genesis Coupe models feature standard four-channel ABS with Electronic Brake-force Distribution (EBD). Hence this optimizes the brake performance under various dynamic loading conditions. The system also includes Brake Assist, which provides maximum ABS-level braking force in accidental and unexpected stops. Of course there is featured Electronic Stability Control (ESC), which is one of the industry's most effective life-saving technologies. The highlight here however is that the 2013 Genesis Coupe now offers a specially-tuned three-stage driver-selectable ESC modes: Full-on ESC function (default mode on start-up); Intermediate ESC function with driver powertrain override control and retained ESC/TCS braking function; Full-off ESC function for uninhibited driver vehicle control in all conditions. The driver-selectable full-off ESC mode has been calibrated to provide drivers with a larger performance envelope should they choose to participate in competitive events such as autocrosses or track days. The Genesis Coupe anti-lock braking system function (ABS) remains fully functional in all ESC modes to help drivers maintain steering control under adverse braking conditions.
Finally all Genesis Coupe models have more aggressive exterior which is emphasized with secen new color offerings: Parabolica Blue, Catalunya Copper, Monaco White, Becketts Black, Circuit Silver, Gran Premio Gray, and Shoreline Drive Blue. To further improve and refresh Genesis Coupe's interior design there is new tan leather interior, a new red leather bolster/red cloth insert interior, and a new gray leather bolster/gray cloth insert interior have been added to the interior color environment selections.
Source: Hyundai