2013 Hyundai i30 Three-Door to Debut in Paris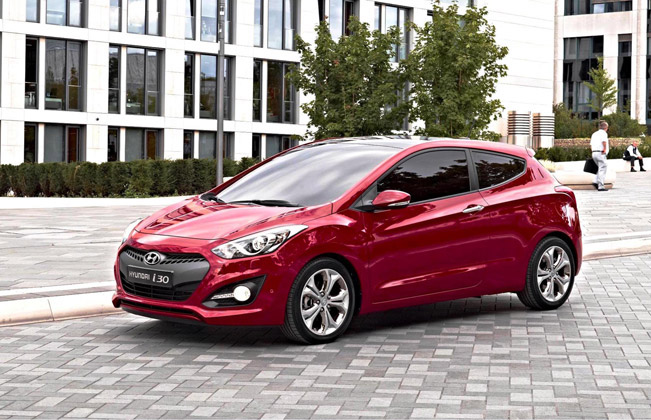 2013 Hyundai i30 Three-Door is set to debut at this year's Paris Motor Show in the end of the month. The new generation i30 is the third member of the i30 family, which up until now consisted only of its siblings – the five-door hatchback and the Tourer.
What's different here is that the three doors give this Hyundai more sporty styling. The exterior of course incorporating Hyundai's "fluidic sculpture" and shows sharply-raked beltline, more angular glasshouse silhouette and longer front doors. All this gives more dynamic profile.
What's new here is the black-finished mesh insert and central bar, which accentuate the hexagonal grille, now flanked by new, sportier fog lamp clusters consisting of the spots connected to LED daytime running light strips. The same design approach is continued in the clusters, and the front-end design is completed by a newly-profiled lower bumper.
At the rear, one can see an updated lower bumper area with new horizontal, sculpted fog lamps. They contrast the upright units of the five-door. These lights combined with the new black insert at the bottom of the bumper create the impression of a wider, sportier rear design. Exclusive 16-inch alloy wheels complete the visual appearance.
In addition to this the new i30 includes a wide range of standard equipment. The ride and handling were updated as well, and in addition to this the settings of the FLEX STEER system will help them change the steering assistance depending on their preference and prevailing conditions.
More importantly, the new generation i30 is offered with a choice of four engines and five power outputs, mated to a six-speed manual or automatic transmission. At the top of the powertrain range is the 'U-II' 1.6-litre diesel engine, generating 128 hp (94 kW).
2013 Hyundai i30 Three-Door will be officially unveiled at the 2012 Paris Motor Show on 27th of September.
Source: Hyundai