Hyundai i30
A European C-segment 5-door hatchback, codenamed FD, a new nomenclature and a concept Crossover Utility Vehicle (CUV) made of alternative materials that help save fuel and offer enhanced pedestrian safety are the highlights to be presented at Hyundai's press conference at this year's Geneva Motor Show.
With the FD Hyundai introduces a new model range firmly positioned in the mainstream European C-segment. Cultivated dynamics, a sleek, sophisticated styling, and a generous convenience and safety package are the FD's main characteristics. A choice of three gasoline and three diesel power options, combined with manual or automatic transmission means the FD can meet virtually every driving, or powertrain preference. It can also match above average occupant space with generous, easy access luggage capacity.
The FD's styling is a continuation of the recent "wave-like and sculpted" showcar design. Flowing curves, emphasised by strong character lines highlight the broad stance and long wheelbase of the FD. The clearly defined unbroken waistline unifies the classic proportions. The sculpted rear appearance is achieved by a combination of qualified curves that extend the waistline and reflect the curvaceous front and side styling. Says Thomas Bürkle, Hyundai European Chief Designer: "The FD offers a dynamic and sporty styling, although it has kept the chic and elegant touch of the Arnejs concept car."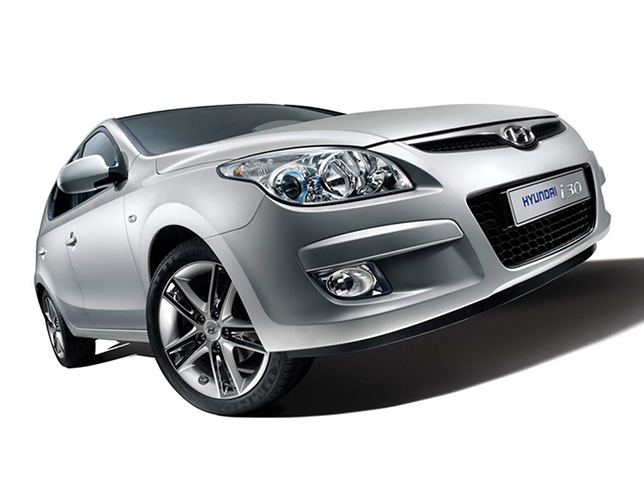 Hyundai plans to launch the modern understatement FD in summer of 2007. Initially available as a 5-door hatchback and later on as an estate car the FD opens a new chapter for Hyundai in Europe, as it is the first dedicated European C-segment vehicle made by Hyundai.
Along with the FD, Hyundai will launch a new alpha-numerical nomenclature. While in the past, names had been chosen to express the values inherent in or associated with individual Hyundai models, Hyundai is now taking a more holistic approach to its nomenclature. The new nomenclature will display a clearer technology-orientation and be closely linked to Hyundai's brand promise of "Quality, Self-assurance, and Inspiring".
A third highlight of its press conference, Hyundai will present a concept Crossover Utility Vehicle (CUV), code-named HED 4. As a joint project with GE Plastics, the HED 4 endowed designers with greater expressive freedom to create complex three-dimensional shapes that could not have been achieved with conventional production methods and materials such as metal and glass.
Current composite technology is usually thought too expensive and too difficult to fabricate to be of use anywhere but the aerospace and motor racing industries. Hyundai's CUV is physical proof that this need not be so.
The wrap-around GE Lexan™ windscreen and extensive use of GE polycarbonate glazing materials provides a weight saving of up to 50 percent in relation to glass, while simultaneously allowing more adventurous shapes than flat glass. The glazing features a unique technology from Exatec™ which deposits a thin protective layer of glass on the Lexan™ to add protection from scratching and the effects of weathering.
The HED 4 also introduces new curved and moving side glazing in Lexan. As well as allowing such advanced applications, the impact resistance and other properties of this material also helps increase both occupant and pedestrian safety. Improving the latter is of utmost importance to Hyundai, due to its high percentage of European SUV sales.
HED 4's Elastic Front™ safety system, which encompasses the whole front end of the vehicle, is arguably the world's first global pedestrian protection solution on a CUV. Three energy-absorbing structures are fully integrated underneath the futuristic styling of the HED 4 and this system takes advantage of several advanced materials that offer inherent energy absorbing properties. The HED 4's body panels have been designed to work in concert with energy-absorbing systems on the underside of these panels to manage and dissipate the force of a pedestrian/CUV collision. The Elastic Front™ has been engineered to meet EEVC WG17 Phase2, Euro NCAP, and JNCA pedestrian impact requirements and is currently undergoing testing for final validation.