Infiniti Releases More Details For 2016 Q50 and QX60 Models

Infiniti reveals details for the improvement of two key models: 2016 Q50 Sport Sedan and 2016 QX60 Crossover. Vice President Randy Parker announced that the Q50 model will be available with three new turbocharged engines, which include a 400hp (294kW) monster, while the QX60 will offer a reshaped exterior and tweaked interior. So, let's check out what is going on here.
As said, Q50 gets three new engines and the most notable one is the 400hp 3.0-liter twin turbo V6 power unit. It offers highest power output in class and this is also the most advanced unit that Infiniti has ever used. Built with lightweight aluminum, this sweetie adopts the Gasoline Direct Injection system, offers turbine blade design, turbine speed sensor, electronic wastegate actuator, water-cooled engine charging and a ton of additional goodies.
SEE ALSO: 2016 Infiniti QX30 Premium Active Crossover Made its Global Debut
The second power unit is a 300hp (220kW) 2.0-liter turbo inline 4-cylinder beast that was created in conjuction with Daimler and will be available later in winter. In fact, in late winter we will witness the arrival of the new Q50 Hybrid with a 3.5-liter gasoline-electric hybrid engine.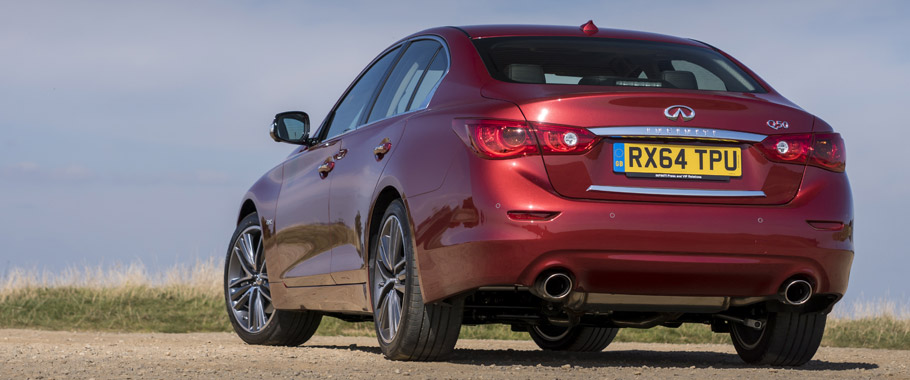 And the third unit offers a total of 208hp (205kW) of output via a 2.0-liter turbo inline 4-cylinder system. It will be geared in Premium Q50 2.0t models.
Furthermore, the 2016 QX60 will also adopt advanced safety features and systems as the Forward Emergency Braking, Predictive Forward Collision Warning system and numerous more. Additional information will be available later this winter when the vehicle arrives in showrooms.
Source: Infiniti