Infiniti FX Update for 2012
Minor updates are in store for the 2012 Infiniti FX – a slight redesign at the front, some new color schemes and new wheels. At the same time, prices remain largely unchanged.
A new profile of the front bumper means a new look. The grille has also been altered and now resembles the one which was fist seen on the 2009 Infiniti Essence concept car. The GT and GT Premium line get new five double-spoke design 20-inch wheels. The S range on the other hand, remains with the previous, distinctive 21-inch set. That being said, S models are now available with Rear Active Steering (RAS) and a ton of other handling enhancing features. Iridium Blue and Graphite Shadow are the newly available body colors for all the FX models.
From here on the details about the models are kind of mushy but here goes nothing: The GT range comes with two V6 engines – one is a 3.0 liter diesel (FX30d GT) that develops 235bhp and the impressive 550Nm of torque. 31.4 mpg on the combined cycle make that one the choice for eco-minded customers. The second one is a 3.7 liter petrol unit (FX37 GT) that brings 316bhp to the wheels. Whichever FX GT you might choose, they will both have the complete luxury package.
The S range features those aforementioned as well with the addition of an FX50 S model which carries a V8 385bhp 5.0-litre. While every other choice, be that GT or S, can be further enhanced by a "Premium" package, the FX50 S comes strictly as a Premium. Overall, one can easily tell the difference between GT and S models – The driver oriented S have bigger rims, Rear Active Steering (except the FX37), and Continuous Damping Control. Smoked headlights, red S badging and dark chrome exterior air vent and sill strip just to name a few more S signs.
To wrap it up, we are going to end with something that all FX models share – an intelligent torque-sensing AWD system. It gets its power from the 7-speed adaptive shift automatic transmission and magnesium paddle shifters on the wheel make changing gear a charm. Get yourself a Premium version on whichever FX and there's going to be a 30GB HDD navigation and Bose® Premium Sound System as standard.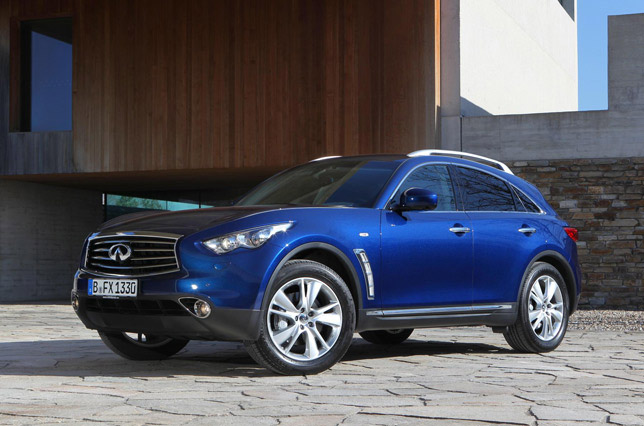 Source: Infiniti