Je Design Audi TT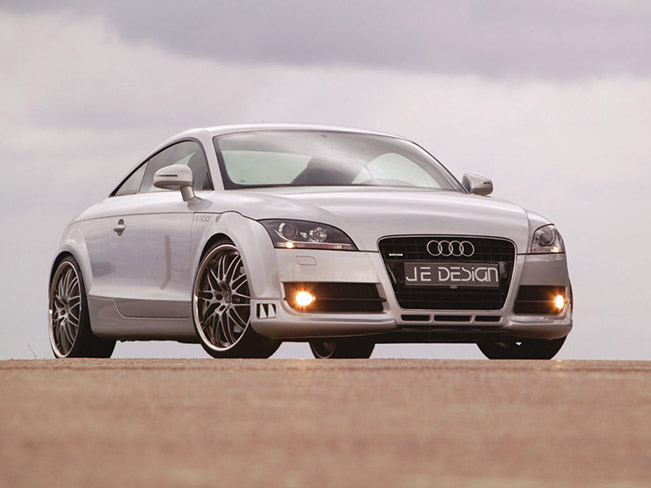 Audi barely released the TT on the market and JE DESIGN already came up with modifications. Now out of Leingarten, Germany, one can receive "huge" helpings while going back for seconds. In addition to suspension and motor is a complete optical package including improved brakes, a 4-pipe stainless steel sports exhaust and 20" wheels.
JE DESIGN sets the the 2,0 Litre-TFSI motor under heavy pressure. Following alterations to the motor control system, the turbo gasoline-engine car has 180kW / 244HP at 5100 RPM (series produced: 147kW / 200HP). The series produced 280 Nm increases to 355 Nm providing measurably improved elasticity values. Aside from this the TT races a clean 247 km/h (series produced: 240 km/h). Naturally customers can expect better acceleration. The TT from JE DESIGN wins from 0-100 magical mark in just 6 seconds. In accordance, this motor meets all emission regulation requirements.
Additionally JE DESIGN supplied parts provided for enhanced power have been approved through TÜV: German Technical Inspection Association. 244 horsepower is a okay, but JE DESIGN already has scheduled to bring in the next big hammer. The Leingarten based tuners are in preparation of a compressor kit for the 3.2 Liter-V6 that elicits a Porsche-killing 350HP.
Optics and Sound Tuning
To leave a stronger mark in the rear mirror of other cars, JE DESIGN provides the TT with distinctive features of a two-part front spoiler mounted on the left and right front. Perfectly matching and connecting this components is a spoiler lip in carbon-look, which also enhances a touch of motorsports. In back, JE DESIGN throws in a diffuser-insert in carbon-look for use in combination with a JE DESIGN 4-pipe stainless steel exhaust silencer which especially creates a sporty sound with the 3.2 Liter-V6 motor. It can be fitted to the 2.0 TFSI version as well. Naturally, the exhaust silencer is delivered with EC-approval. The diffuser-inserts come alternatively in a standard version finished in matching car or contrast colour.
A discreet rear spoiler lip for lift reduction rounds up the new rear view. All aerodynamic components are constructed per CAD guaranteeing precision fitting. The front spoiler part as well as rear spoiler lip are constructed of high quality PU material and the diffuser-insert is of ABS-plastic.
Suspension, Brakes and new Wheels
A lowering set of sport springs, available for front wheel drive and quattro-versions, relocates the TTs' centre of gravity by 30 mm downwards thereby improving the agility of this coupe. The lowering set can be used as well in vehicles with magnetic ride system (MRS). JE DESIGN makes even better driving performance for the TT-version possible through an adapted and adjustable coilover suspension.
Recommended for those who prefer an even brisker movement of the JE DESIGN-TT is a 4-piston sports brake system in size 330x28mm guaranteed for better deceleration. JE DESIGN offer includes ventilated brake disks, brake callipers, brackets, added-on parts, sport steelflex lining and TÜV parts approval.
Ultimately vehicle tuning amounts to new attractive wheels. JE DESIGN proposes as largest and naturally best looking option a 20" large, forged wheel in 8,5x20" ET 35 and in "Super polished" finish or optionally a complete wheel set with tires 245/30R20Y. An alternative offer is 10x18" (model "Visage") or 19" wheels with 245/35R19Y (model "Multi-spoke" in "Shadow Silver" or "Chrome-look") . Either way the TT is well "soled" with JE DESIGN.
Naturally this complete program is also available for the new Audi TT Roadster.