2012 Jeep Grand Cherokee SRT8 SUV with a Ferrari Look
Custom-built versions of the 2012 Jeep Grand Cherokee SRT8 in exclusive Rosso Corsa coloured exteriors, red leather interiors and additional Ferrari looks. This all has been done in order to pay tribute to the two Ferrari 'ambassadors'. Today those two specially prepared models were delivered to Scuderia Ferrari Formula One drivers - Fernando Alonso and Felipe Massa, which were the inspiration for the SUV's production.
Each Jeep Grand Cherokee SRT8 features an aggressive exterior look with astonishing design – all inspired by classic Ferrari brand styling. As you can see the iconic, seven-slot Jeep front grille is painted matte black and features custom red inserts. The front and rear bumpers, the hood and the entire roof and rear spoiler were customized with offset black driver's stripe with white accent. In addition, there were featured unique details including matte black painted dual-pane sunroof, carbon fiber mirror caps and a gloss black rear light bar with red accents on the Jeep logo. The extraordinary design is eventually finished by the Italian flag which was painted on the underside of the rear spoiler. Of course, the ride height has been lowered 1.5 inches. Furthermore the vehicles ride on unique forged aluminium, 20-inch wheels painted black.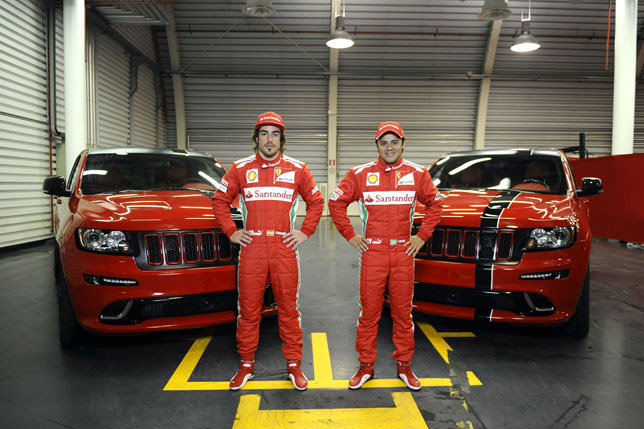 And what about the interior – it was enhanced by exclusive Ferrari Red leather inserts on the seats with sculpted bolsters. Additionally, the door trim panels, the central armrest and the instrument panel were tuned with exclusive red leather. The steering wheel was also leather-wrapped with mounted paddle shifters featuring red contrasting stitching. The astonishing instrument cluster includes yellow dials, thus making the cabin more stylish.
The 2012 Jeep Grand Cherokee SRT8 is powered by the all-new 6.4-liter HEMI® V-8 engine with Fuel Saver technology that turns off four of the eight cylinders when full power is not required to ensure increased fuel economy. Due to the HEMI V-8 powertrain there are delivered 468 horsepower (344 kW) and 624 Nm (474 lb.-ft.) of torque. Hence, you can expect a great performance of 0-100 km/h which here is only 5 seconds. The top speed is 257 km/h and brakes from 100-0 km/h in 35 m. These two uniquely customized and modified 2012 Jeep Grand Cherokee SRT8 models are based on the new high-performance model of the Jeep flagship SUV set to arrive in Europe's dealerships in May this year.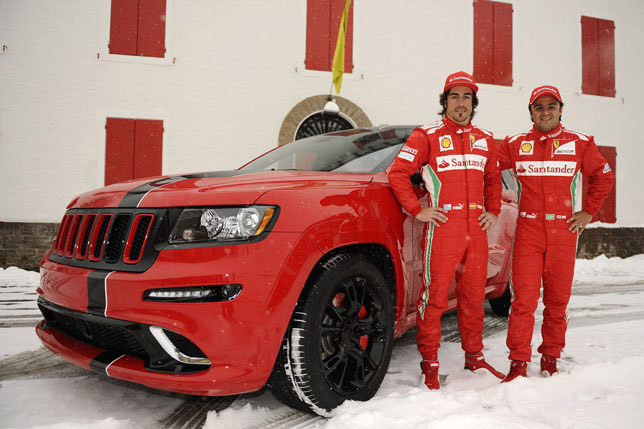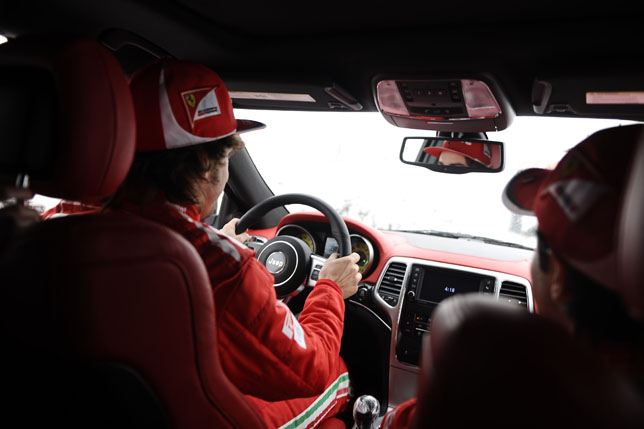 Source: Jeep