Jeep Launches 2012 'Jeep Arctic Yeti Dig' Sweepstakes
Exciting news from the Jeep® brand! It would like to send one lucky person home from the "2012 Winter X Games 16" with a new 2012 Jeep Wrangler Arctic edition! The brand kicked off the "Jeep Arctic Yeti Dig" sweepstakes on the Jeep Facebook page, Twitter and blog sites. The details are that six sweepstakes participants will be randomly selected to attend the Winter X games and on 27th of January. They will dig in a giant pile of snow to find the "Jeep Yeti." The first to find it will win an all-new Jeep Wrangler Arctic. The perfect present, isn't it? The sweepstakes runs through 3d of January!
The new 2012 Jeep Wrangler Arctic edition is the perfect vehicle in extreme winter conditions! Moreover the new Wrangler Arctic edition features a unique winter-themed exterior and interior design. And if you want to have this awesome winter vehicle, then you can do it without spending any money and a little bit of luck. Don't procrastinate too long and participate in the 'Jeep Arctic Yeti Dig' at the '2012 Winter X Games 16', then you might have one Wrangler Arctic of your own!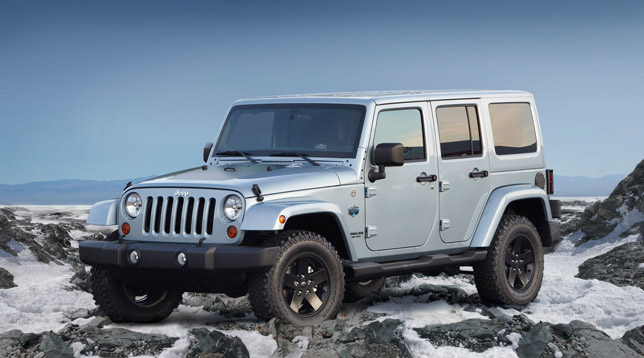 2012 Jeep Wrangler Unlimited Arctic
The new 2012 Jeep Wrangler Arctic is based on the Wrangler Sahara model. However the Arctic's winter theme is immediately recognizable. There are several available models: Winter Chill, Bright Silver and Bright White. Furthermore the exterior features include a body-color hardtop and fender flares, "Arctic" badges on the front fenders, a "Yeti Footprint" decal over part of the driver's side fender and hood, black hood decal and Mopar® black fuel filler door and tail lamp guards. Jeep Wrangler Arctic also offers an aggressive Wrangler Rubicon tire and wheel package. It includes the unique semi-gloss black 17-inch wheels shod with 32-inch tires. The interior of the vehicle consists of seats made from black Tectonic fabric with Polar White accents and orange accent stitching. In addition the front seats are heated and feature an "Arctic" logo in the seat back. Accent stitching can also be found on the steering wheel, arm rest and console lid. Door trim and nets are accented in orange, and all grab handles and dashboard vent rings are finished in Polar White trim. At last Mopar tread pattern slush mats with white "Jeep" lettering complete the final look of the Wrangler Arctic package.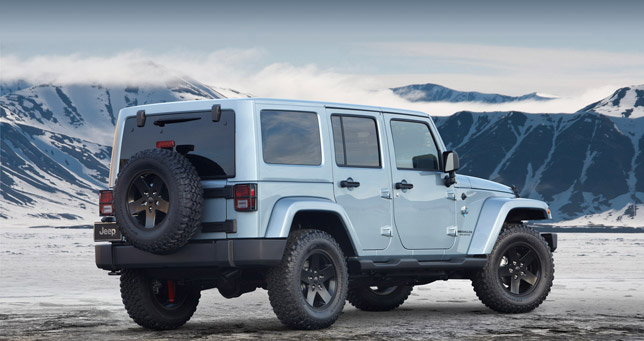 2012 Jeep Wrangler Unlimited Arctic
Source: Jeep