Garage Italia Customs strikes again with Hell's Revenge Renegade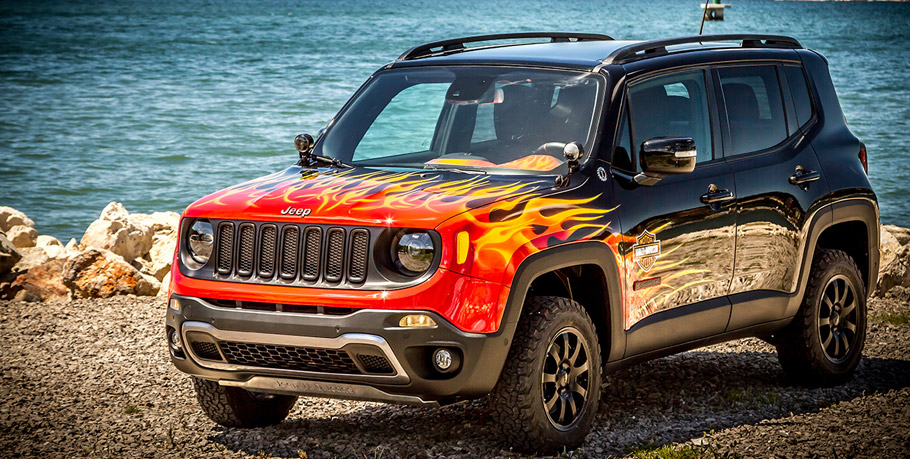 Garage Italia Customs are those specialists who made shoes-inspired Alfa-Romeo 4C (link below) and basically surprised the world with this "creation", which was rather strange. Well, it most certainly looked good. Now, their latest project is killing it with looks, too! Based on the latest edition of Jeep Renegade, it carries the name Hell's Revenge and it will be making its premiere at the Harley-Davidson 25th European H.O.G. Rally. The latter is currently taking place in Portoroz, Slovenia, until Sunday.
In short, Hell's Revenge is passionate, expresses the ultimate freedom and calls for adventure. Values mutually shared by both brands. The show car pays homage to Harley owners and to all bikers who share the same lifestyle views.
SEE ALSO: Alfa Romeo 4C inspired by Adidas Football Deadly Focus Pack is strangely charming 
The Design Centre of Garage Italia Customs identified flames as the key element of the individualization to represent passion (the value in both the Jeep and Harley worlds). To make the idea come into reality, the experts had to add four layers of a matte paint base and then apply the fluorescent flames. All was eventually protected by a special transparent layer for fluo paint.
The livery actually recalls the airbrushing technique, which we see sometimes on motorcycle tanks. The flames theme is continued on the interior via a painting of the dashboard. The seats had to come in black denim leather accentuated with Foglizzo Nappa.
Besides the standard features, which one can find on a Renegade, here is included extra technical equipment. It adds the following: personalized skid plate, a suspension lift kit and special alloy rims combined with BF Goodrich tires. A very special feature is the two LED spotlights on the windscreen.
Harley-Davidson 25th European H.O.G. Rally is free and open to all. The expected attendance is of thousands of Harley-Davidson riders, enthusiasts and fans. So make sure to be there if you are in the vicinity!
Source: Jeep