Jeep and Garage Italia Customs honour Montreux Jazz Festival with special lineup of vehicles!
Since 1967, the Montreux Jazz Festival has witnessed numerous celebrities performing and since its early years the fest became one of the most anticipated events in the world. And in order to celebrate the 50th anniversary of the Festival, Jeep, in collaboration with Garage Italia Customs (GIC) reveal the Jeep Cherokee Jazz, Jeep Renegade Vinyl and Jeep Grand Cherokee Score show cars.
Jeep Cherokee Jazz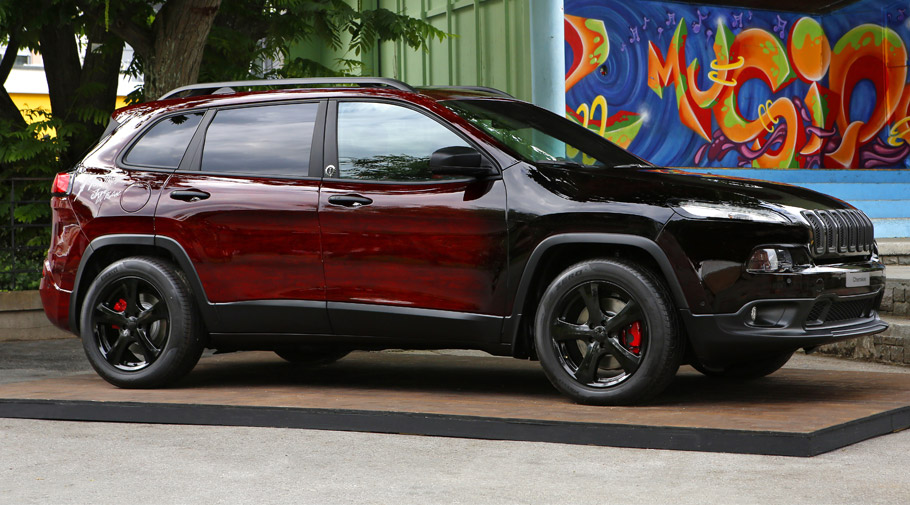 Inspired by the musical instrument guitar, Garage Italia Customs used wrap-paint, a special technique that results with recreating the classic wood veneer of a guitar. Generally, the process consists two major steps: first, the vehicle is encased in a wood-texture film, then it is painted with great skill and passion. As you will see for yourself, the result is stunning: we see veiled body with black color that elegantly changes to brown. Sweet.
With a drivetrain that is based on the Limited Edition model and which offers 200hp via a 2.2-liter Multijet II diesel unit.
Jeep Renegade Vinyl
The vinyl, a symbol of a generation and emblem of fine music was the inspiration for this one. The design team recreated the same surface on the body with wonderful 3D-effect double-wrap. Garage Italia Customs applied a series of concentric circles on the body and then completed the visuals with electric-blue wrapping.
The interior is also inspired by the legacy of the vinyl: the Alcantara fabric has undergone some exclusive customization and also reproduces the design of the vinyl even on the seats! Cool!
Renegade Vinyl is based on the Trailhawk and comes with a 2.0-liter 170hp Multijet II turbo diesel unit, mated to a 9-speed automatic gearbox.
Jeep Grand Cherokee Score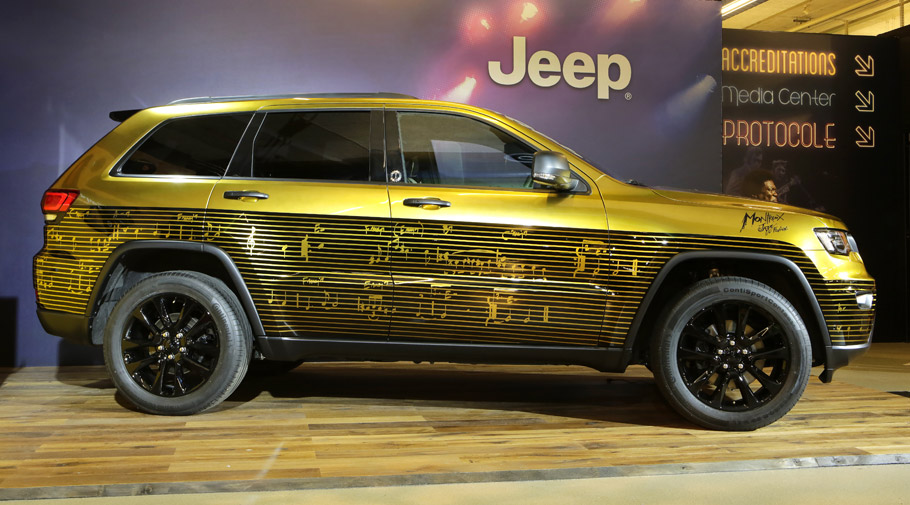 The unique tribute lineup is completed with Jeep's flagship model. The sides of the vehicle represent musical scores and are enhanced by brasss-colored notes. Of course, the same concept dominates the cabin: there is Foglizzo leather upholstery with pentagram on the backrest.
This one is based on the 75th Anniversary model and features a 3.0-liter Multijet II 250hp unit, mated to an eight-speed automatic gearbox.
The three unique cars also show one more thing: that the two brands have made a step forwards in the collaboration between Jeep and Garage Italia Customs, and we do hope to see some more special cars in the near future.
Source: Jeep