Jeff Gordon Sits behind the Wheel of Corvette Z06 for Indy 500

Jeff Gordon is not an unknown name for the motorsport enthusiasts. But if you are not among them, maybe it is a nice idea to tell you that he is a five-time Brickyard 400 winner and four-time NASCAR Sprint Cup champion. Why these facts are so important? Gordon will be driver behind the steering wheel of a Corvette Z06 pace car. This will happen at the 99th edition of Indy 500 mile race on May 24 at the Indianapolis Motor Speedway.
Another interesting fact about the even and Corvette, is that this particular model was a pace car a total of thirteen times. Chevrolet, in general, has participated in the race with a pace car exactly twenty-six times.
SEE ALSO: Accord Safety Car to Pace Verizon IndyCar Series 
Thanks to Chevy's 650 horses and seven-speed manual, the specific race-oriented chassis system and impeccable characteristics, Gordon won't have any problems in being the first car in the race. As you can see from the pictures, the car features an Arctic White exterior paint scheme and one-off Indy graphics, while the interior is decided in Adrenaline Red. Safety strobe lights are also included in the special package.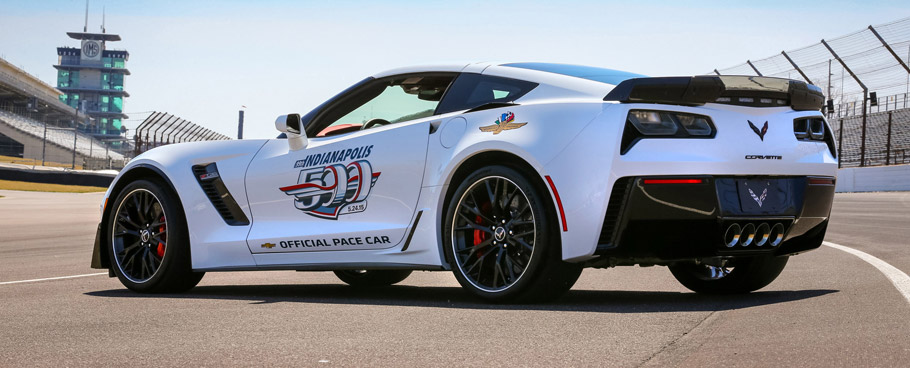 To remind you, the new Corvette Z06 is driven by the LT4 supercharged 6.2L V-8 engine. It produces no less than 650 horsepower (485 kW) at 6,400 rpm and 650 lb-ft of torque (881 Nm) at 3,600 rpm. If this does not speak anything to you, well the numbers only say that this is the most powerful production GM car.
As an option, Chevy is offering the Z07 package, which enables 0-60 mph acceleration in 2.95 seconds and braking in only 99.6 feet as well as some styling components. In addition, Z06 is also equipped with Performance Data Recorder. It allows those driving the vehicle to record HD video of their driving experiences on and off the track.
Source: Chevrolet