Kahn Design Imperial Blue Cosworth Range Rover
As you see this iconic Range Rover received and upgraded appeal from Kahn Design. This was made through the feature of the Cosworth's engineering with quintessential British. This Imperial blue Cosworth Range Rover Edition now has even more style, comfort and luxury. It is now boosted with wide vented front and rear wheel arches with integrated LED running lights in the front air dams, brake calipers finished in liquid gold, RS front grille with 3D mesh, exhaust side vents, Cosworth branding, matt pearl grey or matt black paint detailing (door handles), side vents, grille surround and Cosworth machined and vented aluminum foot pedals.
Next to the powerful Cosworth engine enhancement, there is also featured a combination of alterations to the supercharger and ECU programmingq, which are taking effect as an even more rapid Range Rover. In addition the Kahn stainless steel quad exhaust system is centered on a radical design, which reflects an attraction to a pluto-matic lifestyle. The vehicle is completed with a cross hair exhaust feature.
The Cosworth interior package is excellent and done with a lot of attention on the details: great finishes and top end design make it even classier.  Cosworth included also in the interior a front and rear seats in diamond quilted perforated black leather with a carbon trim, carbon fibre interior trim, Cosworth speedo in blue, yellow rev counter, diamond gear selector, Churchill time clock with Swarovski diamond bezel and Cosworth door entry sill plates. Next to be mentioned are those great wheels on which the Rover sits – namely 22" Kahn RS wheels. The RS wheels are synonymous with elegance and innovation due to their simple clean lines, soft organic surfaces on the edge of the spoke and a purposeful mechanical centre.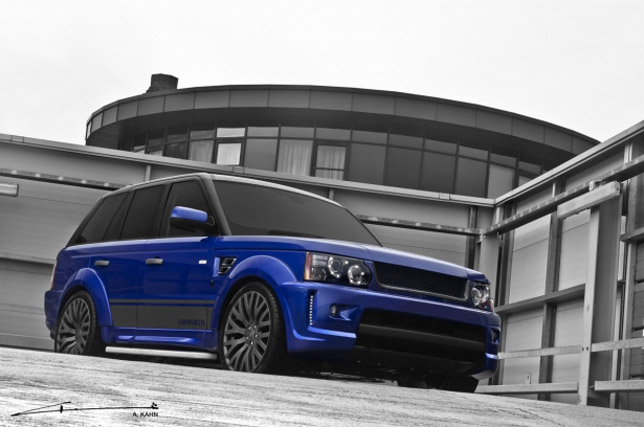 Source: Kahn Design