2012 Kahn Jeep Wrangler Military Copper Edition
2012 Kahn Jeep Wrangler Military Copper Edition is the newest transformation delivered by the talented Afzal Kahn. Here he combined the mechanical perfection of the Jeep with an exterior beauty in copper.
It is obvious that he is keen on working with Jeep Wranglers, we have seen some great transformations by him done on this model. The current one however, is probably the most expressive one.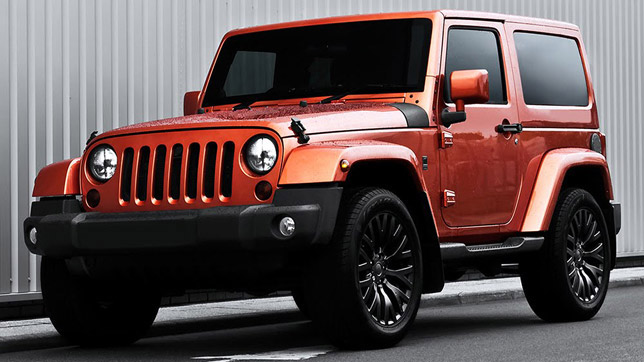 This Copper Edition is characterized by new front grille industrial mesh, brake calipers finished in copper, mud flaps, side wing blades in carbon, xenon crosshair headlamps, door entry sill plates in stainless steel, Kahn enamel wing shields, fuel filler cap (smoked black), privacy glass, heated seats, floor mats, split level targa roof, aluminum machined foot pedals, Kahn enamel tailgate logo and rear wheel cover.
More cutting edge technologies can be seen on the blank rear window sections and LED lights, which can be made in bullet-proof glass according to customers wish.
Furthermore, Kahn's cross hair exhausts in stainless steel reflects an attraction to a pluto-matic lifestyle. This means that the vehicle now is more silent than ever.
The interior of the Jeep is made exquisitely well with the craftsmanship of the tuner. This vehicle comes with front and rear seats in quilted black leather with copper stitching and a centre console, also in a copper finish. Just look at the picture below and you can get a sense of how perfect they look.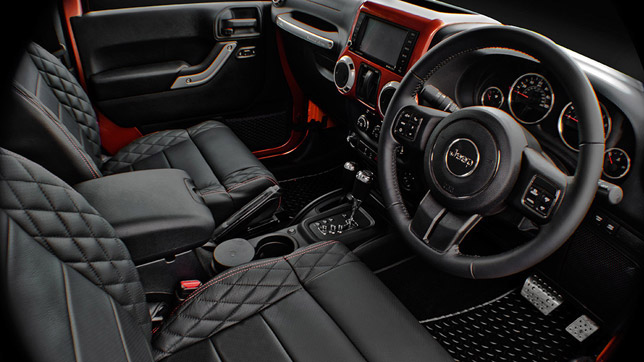 At last, the model runs on special Kahn wheels, which go along perfectly with the vehicle and even further enhance its essence. They were created using state-of-the art manufacturing and materials technology, and are in 9 x 20 size, in smoked black color.
Source: A. Kahn Design