Kahn Unveils Sunset Orange Jeep Wrangler Sahara
Every Friday I am used to receiving an e-mail from Kahn Design with its latest project. And since today is the day, let me introduce you to the Jeep Wrangler CJ300 by the Chelsea Truck Company (CTC). This one is so cute that I am sure you'll love it as I did. The Wrangler is definitely my favorite from all Jeep models, and it seems like the one and only Afzal Kahn has the same feelings for it, too. So, let's take a look at the newest addition in Chelsea Truck Company's portfolio.
Exterior
Starting from the outside, the exterior of the Wrangler looks intriguing with its two-tone design scheme. The tuners have used Sunset Orange as paint, but have accentuated it with a contrasting Piano Black used for the door handles, fuel filler cap and mirrors.
SEE ALSO: Kahn Releases Tech Pack for the Range Rover Evoque RS Sport
At the front we see two smoked headlights flanked by a four-slot Chelsea Truck Company grille that features industrial mesh. We can't miss the LED Diamond bright headlights and CTC's spare wheel cover, which rounds out the exterior modifications.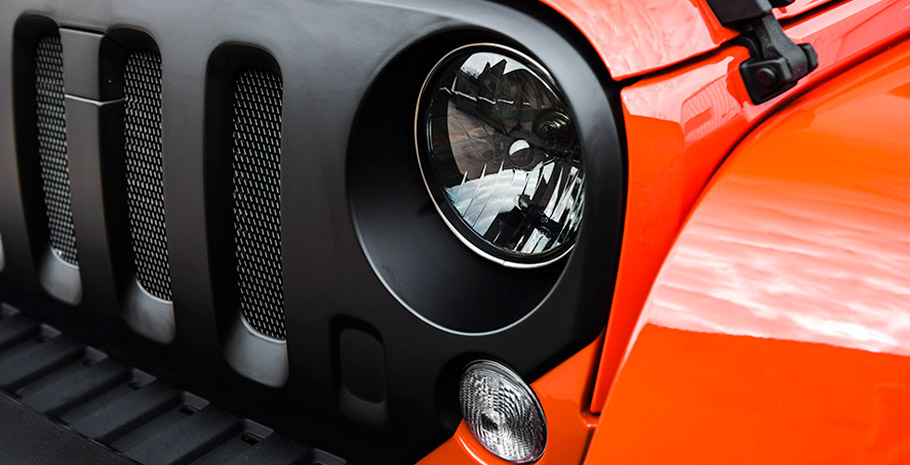 Wheels & Tires
Complementing the Piano Black theme are the Satin Black 17-inch big Jeep 1941 wheels. They fit perfectly to vehicle's exterior and are fitted with Copper Discoverer ST Maxx 285/70/17 all terrain tires. Commenting on the wheels, we can't fail to see the new painted brake callipers with a set of mud flaps. There is also a new quad-cross-hair exhaust system.
Interior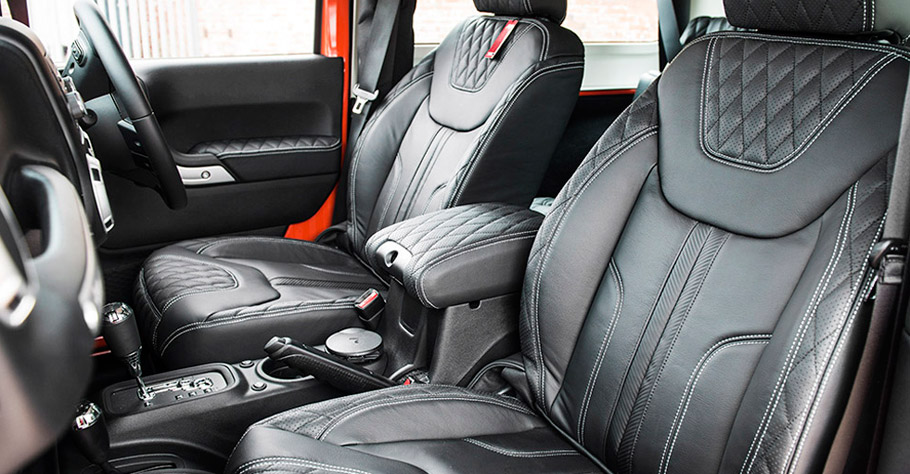 For the cabin, Kahn Design has used quilted and perforated leather extensively. It has been matched with contrasting white stitching. The same material was used for the centre glove box and arm rests, while the steering wheel is absolutely new and now offers greater grip and feel for the driver.
At last, beneath the waistline we see stainless steel door entry sill plates and new floor mats.
Source: Kahn Design