Kahn transforms Range Rover Evoque to unparalleled levels

Project Kahn Evoque mixes dynamism and luxury
We have not one, but two important news to announce about our favorite British tuner Kahn Group. Almost every Friday the designers release a brand new project, and today is no exception. We have received the first pictures of the breath-taking Project Kahn Range Rover Evoque Dynamic Luxury Edition, which has been styled in the ways and manners of Afzal Kahn. In other words, it looks amazing and those who will be sitting inside will enjoy wide range of luxury.
Dressed in Santorini Black Metallic livery and fitted with various add-ons, the vehicles looks dramatic and powerful on the road. But besides the exterior paint scheme, there are other reasons for that. Take for instance the stunning front bumper with integrated vents or the LED daytime running lights and 3D mesh inserts that adorn the front.
SEE ALSO: Afzal Kahn does his magic on a Wrangler Sahara to create something spectacular 
As for the rear part of the Evoque, there is a rear bumper replacement as well as rear diffuser, lower boot lid spoiler and a sump guard in matt black. Not forgetting the central twin cross-hair exhaust system and the 25mm sports lowered suspension, which give the vehicle a more menacing and tough stance. We can not skip the set of 22-inch RS wheels, nor the colored brake callipers.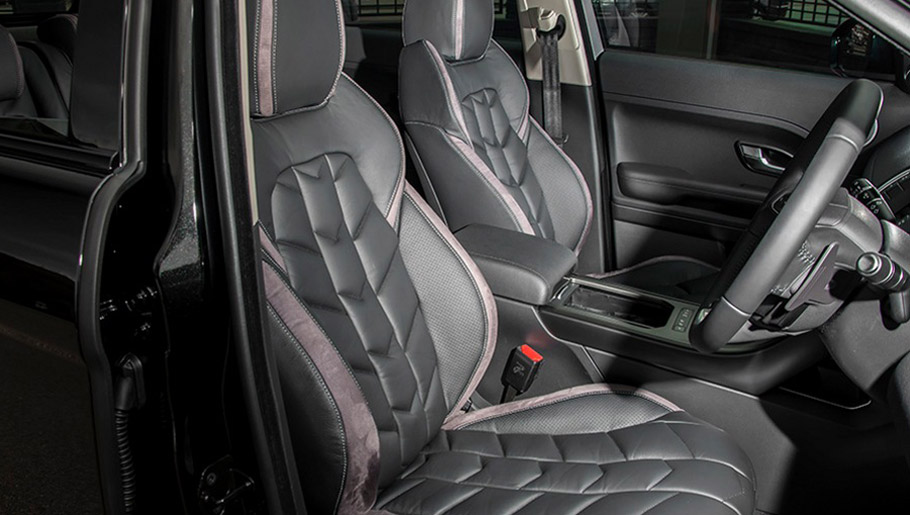 On the inside, the new upholstery is Black Herringbone leather but there are details in Alcantara. The dark theme is contrasted by stitching and additional offset is made by the Piano Black gear selector surround, aluminium vented foot pedals and stainless steel door entry sill plates.
Going to the next news, we have received the information that Kahn Group is starting partnership with Millennium Automotive Group. The latter is appointed as the sole Kahn distributor for Sri Lanka, so have that in mind if you are somewhere in the vicinity and are kind of impatient of buying Kahn vehicle.
Dubbed as Kahn Design Sri Lanka, this appointment will actually feature the entire range of products offered by the tuning masters at Kahn Group, including our favorite Chelsea Truck Company, Kahn Design and Project Kahn.
As for the Range Rover Evoque that we have just covered, if you find it interesting enough it could be yours for as low as £56,999.
Source: Kahn Design