KW Enhances Mercedes-Benz CLS 63 AMG Shooting Brake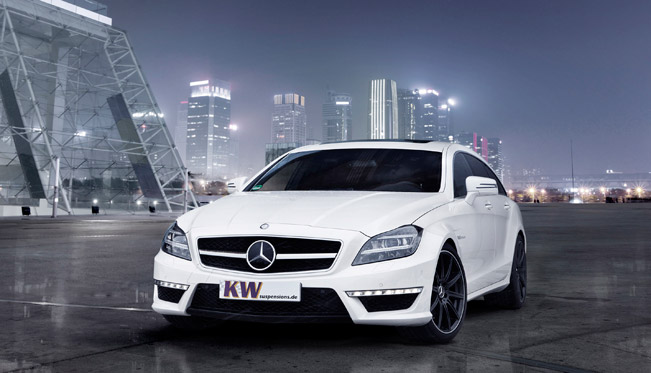 KW Automotive has recently put some attention on the Mercedes-Benz CLS 63 AMG Shooting Brake. It has given the vehicle a brand new visual stance. The suspension manufacturer has created a coilover spring kit for this AMG which adds to the versatile alloy wheels that the driver can chose.
As a matter of fact, the KW coilover spring kit offers the opportunity of continuous lowering. This means that the person behind the steering-wheel of this Mercedes-Benz can set the lowering according to their wishes within the range of 25 to 40 mm at the front and 15 to 35 mm at the rear. In addition, for this KW spring kit with height adjustment, no modifications at the adaptive AMG dampers or AMG Ride Control are needed.
The coilover springs are made of high strength chrome silicon steel and lower the CLS 63 AMG Shooting Brake via the height adjustment. At the front axle, an AMG Performance Center or specialist dealer just changes the standard springs, while the lowering at the standard air springs on the rear axle happens via the KW articulated rods. For instance, if a lowering of 40 mm is too much, then the KW coilover springs can be adjusted continuously via the height adjustment.
Mercedes-Benz CLS 63 AMG Shooting Brake comes equipped with 5.5-litre V8 biturbo engine as a standard. It has a power output and torque levels of 386 kW (525 hp) and 700 Nm respectively. This means that it easily accelerates from zero to 100 km/h for 4.4 seconds on its way to a top speed of 250 km/h.
Source: KW Automotive