KW Volkswagen Golf VI Convertible Adds The Lambo-Effect with LSD-Doors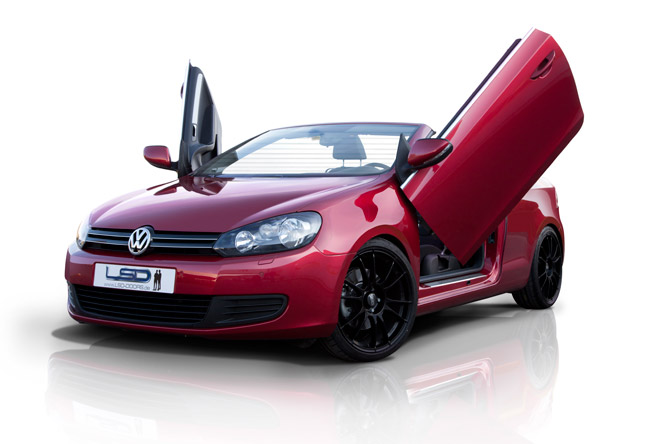 The sub-brand of KW Automotive - LSD-Doors has given the Volkswagen Golf VI Convertible new spectacular appearance. LSD Doors were installed without a big effort giving this Volkswagen model a great advantage.
Namely - instead of replacing the entire door, one just have to replace the series hinges against the LSD-Doors hinges. This means that one can now open the Golf doors just like the doors of many Lamborghini models.
As a matter of fact, the LSD fittings set a standard for high quality styling accessories with their three-dimensional adjustment possibility, the effortless installation at the original mounting points and their perfect fit. The perfect opening and closing of the doors happens thanks to the adjustable roller guide of the Guided Roller System (GRS+) with additional locking.
Furthermore, the swing arm of the LSD hinges is directed via roller when the movement is happening. A gas spring which matches the weight of the door, keeps it in position in the complete opened status. In addition, thanks to the LSD hinges, the original doors open first outwards and then in the upper direction.
Source: LSD-Doors