Lamborghini Aventador LP700 Converted To Winter Edition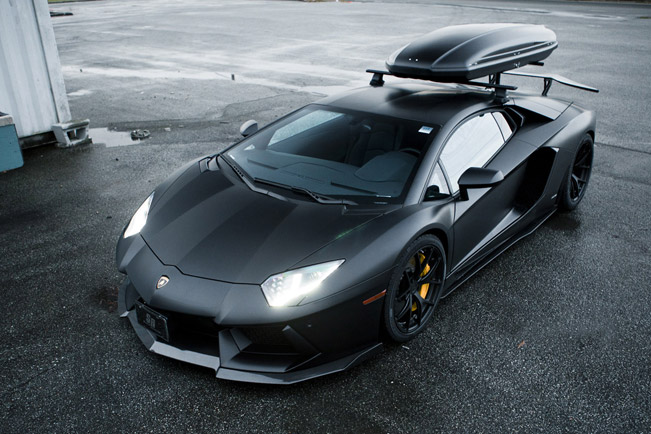 PROJECT700 has been started with the aim to entirely be dedicated to winter. Thanks to the designers at SR Auto Group, a Lamborghini Aventador LP700 has been fully changed in order to survive the cold and slippery days.
First of all, the tuners began with the exterior modification of the car. They have installed a full carbon fiber PUR Aero kit. The latter accentuates the beautiful lines of the Aventador even more. And to keep the carbon shiny, they have applied a clear vinyl to protect it from the harmful affects of the salty roads.
The next step was to wrap the body of this Lamborghini in satin black vinyl for both aesthetic and protection purposes. What truly amazes here at first glance however, is the external storage compartment which can store all the gear needed for the perfect vacation.
This is where the designers added a custom made rear attachment which was created in such way that it pairs with an eight foot long Thule ski box. The box itself was then was wrapped in the same satin black vinyl.
The same "black" theme is continued even onto the wheels. SR Auto has added a set of factory flush PUR 4OUR wheels matched with Pirelli Sotto Zeros. The wheels include strong powder coated finish in order to withstand the winter months. At last, a suspension by PUR Basics was added. The lowering system dropped the vehicle to a fully functioning height.
SR Auto Lamborghini Aventador LP700 Winter Edition Details:
Wheels & Tires

PUR 4OUR, 19×9.5, 20×12 | Modern Black
Pirelli Sotto Zero, 255/35/19 | 335/30/20

Exterior

PUR Aero Carbon Fiber Front Lip
PUR Aero Carbon Fiber Side Skirts
PUR Aero Carbon Fiber Rear Spoiler
PUR Aero Carbon Fiber Rear Deck Lid
PUR Aero Carbon Fiber Rear Spoiler
Satin Black Exterior Vinyl

Suspension

PUR Basics Lowering System

Accessories

Thule Satin Black Ski Box
Thule Satin Black Roof Rack Attachment
Custom 'SR Executive' Rear Attachment Stand
Source: SR Auto Group