Law Enforcement Agencies Demanding 2014 Dodge Charger Pursuit AWD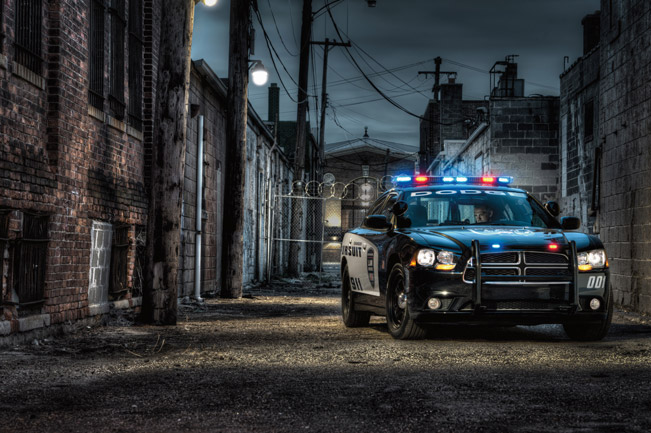 2014 Dodge Charger Pursuit AWD is the star of the circuit, which Chrysler Group is hosting at public and private tracks across the United States. With this vehicle, the Michigan State Police recorded their fastest-ever AWD lap time during their annual police vehicle evaluation tests. Police chief, patrolman, sheriff's deputy or fleet manager – all want to test drive the police sedan. Precisely, last week Chrysler's government and fleet operations team hosted 50 law enforcement agencies at the Daytona International Speedway in Florida.
In fact, this is the sixth stop on the tour, which has started in February. By the end of the tour, the team will complete twenty more tracks across the country this year. This is the only practical way, from which the law enforcement agencies can experience how capable the new Charger Pursuit AWD is.
This not only provides a testing opportunity, but also builds on the strong relationship between the brand and the largest municipalities who currently use Dodge Charger Pursuits in their fleets. In general, there are 18,000 law enforcement agencies in the U.S., which are in a constant state of vehicle evaluation.
2014 Dodge Charger Pursuit AWD is powered by the high-performance 5.7-liter HEMI V-8 engine. It delivers great levels of power, refinement and fuel efficiency. In details, it generates 370 horsepower (272kW) and 390 lb.-ft. (528 Nm) of torque, which results in acceleration time from 0 to 100 km/h in less than 6 seconds. The fuel economy is estimated at 25 highway mpg.
To go further into details, the new Charger Pursuit AWD recorded the fastest lap time during Michigan State Police's 2014 Vehicle Evaluation Test (1:33.85) last September. Next to the HEMI V-8, law enforcement agencies are driving the Charger Pursuit RWD with V-8 and V-6 engines, and the Ram 1500 and Dodge Durango Special Services vehicles.
Law enforcement agencies began ordering the vehicle earlier this year. First orders were delivered last month.
Source: Chrysler