Lorinser E-Class
Regarding the new E-Class, Sportservice Lorinser has two red-hot irons in the fire. Both are out to scorch the tarmac on their first "appearance" and to bring a twinkle to the eyes of the passengers. The newly-tuned type W212 E-Class Limousine has already been finished. For the first time in 13 years, Mercedes will again provide a Coupé alongside the series version as an elegant "running mate". As a matter of honour, the Lorinser designers have also "tossed up" a real blockbuster from the drawing board.
Both the existing Lorinser Limousine as well as the prototype of the Coupé show off their extremely bold countenances: in particular their black coated grill makes them both "masked heroes of the autobahn". The "bad touch" is additionally underlined on the four-door by the dark headlight caps and is expressed on the sports car prototype by the black-coated bonnet and roof. The fast duo also draw attention to themselves with a muscular front spoiler which is elongated further to the front. A colour-contrasted middle section of the bumper, the typical Lorinser gills in the fenders as well as the voluminous side sills skilfully underline the biceps of the automobile. In addition, the clearly-purist design of the basic bodywork is given interesting new optical emphases, including a firm rear, which the Lorinser rear apron forms with the diffuser. There is also a dynamic spoiler on the roof as well as something powerful for the ears: four sonorous exhaust pipes set off acoustic fireworks when you put your foot down. This power produces a tingle in the base of the stomach just like the power of the performance-improved engines from the Mercedes tuner.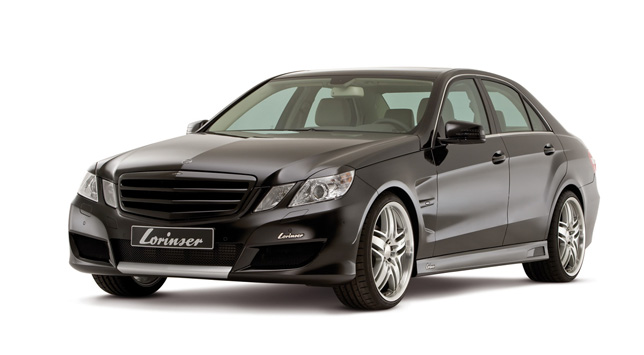 Consequently the current top petrol model with the 500-series power train provides 320kw / 435HP instead of the series-standard 285kw / 388HP. At the same time the torque climbs from 530 to 570Nm and the top speed reaches an impressive 280km/h. This is not due to dubious anabolics, but merely the solid art of tuning. As a result, Lorinser uses special camshafts, an improved exhaust system and an adapted control unit. Thanks to the Lorinser Diesel Modules, these engines can also race at a full gallop. Suitable sports chassis with a good-looking lowered suspension guarantee that Limousines and Coupés will always make the corners. It is therefore self-evident that two thoroughbreds of this kind are not fitted with iron but aluminium alloys, for example the exciting Lorinser RS 9 wheels, whose special feature is their double-slit spokes.