New engines for the E-Class Coupe
Captivating design, passion-fuelled driving enjoyment and outstandingly low CO2 emissions – these are the hallmarks of the new Mercedes-Benz E-Class Coupé. Its sporty temperament is largely attributable to newly developed and modified engines, including a new four-cylinder powerplant with direct injection, which outperforms engines that boast a far higher displacement yet still succeeds in saving fuel. With a displacement of 2.2 litres, the engine in the Mercedes-Benz E 250 CDI BlueEFFICIENCY Coupé develops 150 kW/204 hp and consumes 5.1 litres of diesel per 100 kilometres; equivalent to CO2 emissions of 135 g/km. Mercedes-Benz offers a total of five powerful engines – four of them with direct injection – for the new E-Class Coupé. These exemplary fuel-consumption and CO2 figures, achieved without compromising on agility or driving enjoyment, are down to BlueEFFICIENCY measures as well as to the new engines. These measures include optimised aerodynamics with the world-best cd (drag-coefficient) figure for any series-production car. And that is not to mention a sophisticated energy management system, a shift-point and fuel-consumption indicator in the cockpit, and tyres with low rolling resistance. All of the engines for the new E-Class Coupé meet the requirements of the EU5 emission standard. Thanks to its innovative technology, the E-Class Coupé proves that excitement, driving enjoyment and ecology can go hand in hand.
It is now possible to combine the temperament of a sports car and the stylistic allure of a coupé with ambitious ecological aims. As proven by Mercedes-Benz with the new E-Class Coupé, whose motto is "more power and more driving enjoyment with even lower fuel consumption". Thanks in no small part to the Mercedes strategy, which involves substituting large-displacement, non-turbocharged engines for turbocharged powerplants with a lower displacement. Key benefits of this concept include lighter weight, reduced internal friction and a more economical fuel-consumption map. As a consequence, the newly developed and modified four-cylinder powerplants have a lower displacement yet develop more power than earlier six-cylinder units whilst also posting impressive fuel-consumption figures only previously achievable on a regular basis by compact cars. The engine line-up for the new E-Class Coupé comprises four-, six- and eight-cylinder powerplants with outputs ranging from 150 kW/204 hp to 285 kW/ 388 hp.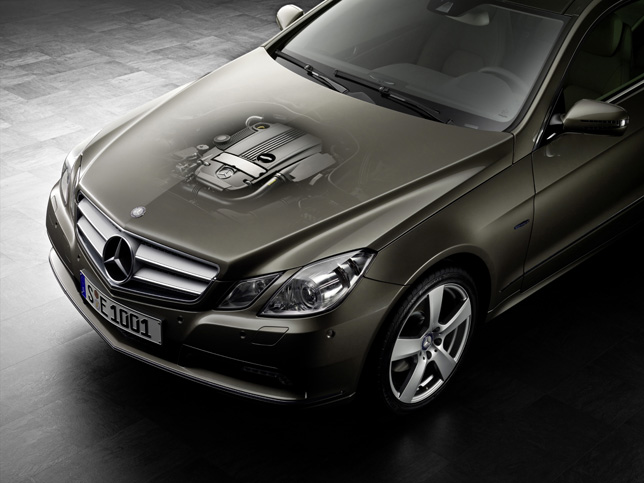 Fuel consumption of 5.1 litres per 100 km and CO2 emissions of 135 g per km With its newly developed four-cylinder powerplant, the E-Class Coupé is a generation ahead when it comes to diesel technology. The new engine features latest-generation common-rail direct injection, fast piezo injectors, enhanced exhaust gas recirculation, and new twin turbochargers that ensure spontaneous power delivery and excellent performance characteristics. To put this into figures, the E 250 CDIBlueEFFICIENCY Coupé with an output of 150 kW/204 hp and a torque of 500 Nm is around 36 more powerful and produces 47 percent more torque than the previous four-cylinder engine in the outgoing model, yet it consumes around 17 percent less fuel: 5.1 litres per 100 kilometres (provisional NEDC combined figure), equivalent to 135 grams of CO2 per kilometre. All of which makes the new CDICoupé more fuel efficient than comparable models in this output category.
Topping the range of diesel models is the E 350 CDIBlueEFFICIENCY Coupé with six cylinders and an output of 170 kW/231 hp. Despite the higher output and torque produced by this sophisticated compression-ignition engine, fuel consumption is considerably less than that of the previous model, amounting to just 6.8 litres per 100 kilometres, equivalent to 179 grams of CO2 per kilometre.
Petrol models with up to 12 percent lower fuel consumption thanks to direct injection The petrol models are equally impressive, boasting a higher output and lower fuel consumption than their predecessors. The new E 250 CGIBlueEFFICIENCY Coupé model with direct petrol injection has a displacement of 1.8 litres and an output of 150 kW/204 hp yet consumes a mere 7.2 litres of premium unleaded petrol per 100 kilometres (provisional NEDC combined figure) – around one litre per 100 kilometres (12 percent) less than the previous four-cylinder engine (135 kW/184 hp) with conventional fuel injection and a supercharger. The CO2 emissions of the new direct-injection model have been cut to 167 grams per kilometre.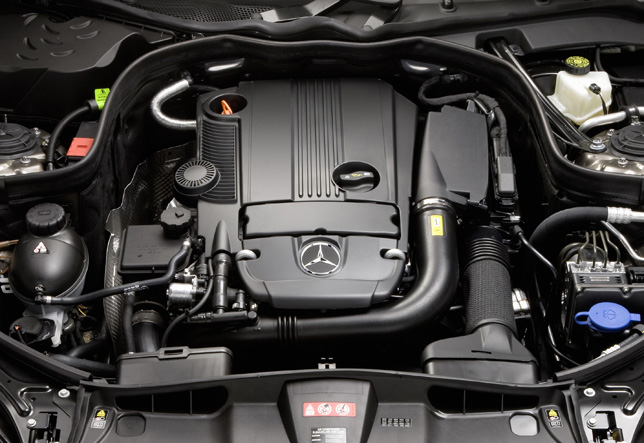 The E 350 CGIBlueEFFICIENCY Coupé is powered by the world's first petrol engine with spray-guided direct injection. The six-cylinder powerplant develops 215 kW/292 hp and provides a peak torque of 365 Nm from 3000 rpm. Thanks
to the state-of-the-art engine technology, which Mercedes-Benz has modified right down to the last detail, fuel consumption is reduced to 8.5 litres per 100 kilo-metres (NEDC combined figure), which is 14 percent lower than the figure for the previous model, whose V6 engine featured port injection.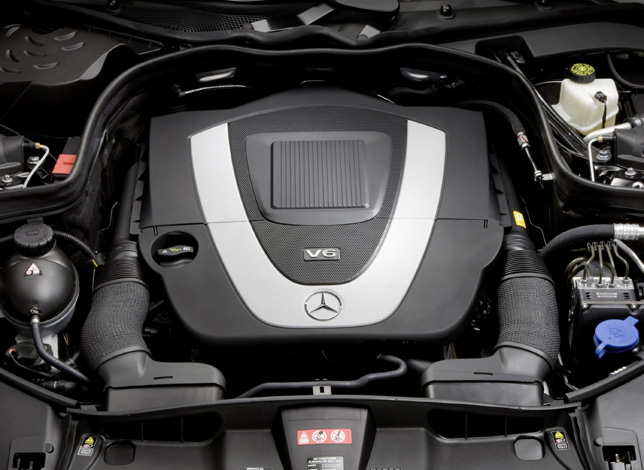 The eight-cylinder engine in the E 500 Coupé – the flagship powerplant in the new generation of Mercedes-Benz V-engines – develops 285 kW/388 hp with a relatively low fuel consumption of 10.9 litres per 100 kilometres. Attributes of this variant of the new Coupé include high output and torque yield as well as exemplary refinement and effortlessly superior agility.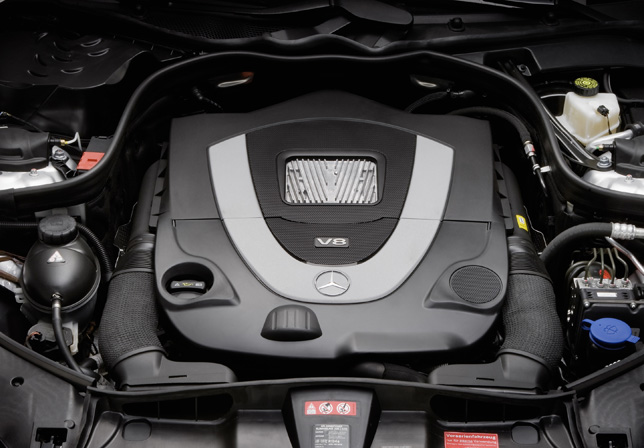 As with carbon dioxide emissions, the engines for the new E-Class have also taken a further major step towards the future when it comes to exhaust gas emissions: all of the powerplants meet the requirements of the EU 5 standard, whose limits are up to 80 percent more stringent than those specified by previous standards.
Lower fuel consumption thanks to BlueEFFICIENCY Like the new engines, the BlueEFFICIENCY package for the E-Class Coupé helps to reduce fuel consumption. A team of development engineers drawn from every key discipline has optimised the parts and components – by reducing their weight, modifying their form, improving their functioning or ensuring more efficient energy management – in order to save fuel.
The work performed in the wind tunnel has proven particularly successful: with a drag coefficient (cd figure) of 0.24, the new E-Class Coupé is the world's most aerodynamic series-production car.
Further BlueEFFICIENCY measures include newly developed tyres which have had their rolling resistance reduced by up to 17 percent as well as energy-saving control of the alternator, fuel pump, air-conditioning compressor and power steering. Displays on the speedometer inform the driver of the current fuel consumption and when it is best to change up a gear in order to ensure economical and ecoconscious driving.