Meet Manhart's MHX5 700 Project Based on the X5 M F85
This special project called MHX5 700 is based on BMW's X5 M F85 model. We are definitely satisfied what Manhart Performance has achieved with it and therefore we impatiently wanted to share it with you. Although we have seen even stronger X5s by he same tuning company (visit the link below for more information), this one here is surely one-off because it also adds some other cool equipment features.
SEE ALSO: Manhart MHX5 750 Promised to be Faster than BMW X5M F85 
Engine Optimization
The current X5 M F85-series is factory-fitted with the 4.4 liter V8 engine, which produces 575 hp (423 kW) and 750 Nm (554 lb-ft) as a standard. These numbers weren't enough for the tuner and therefore it felt the urge to introduce the MHX5 700 program to this BMW model.
The modification began after installing in-house made downpipes and stainless steel sport mufflers with valve control and 100-millimeter twin tailpipes. Then the modification of the engine software began, thus making the datasheet show full 700 hp (515 kW) at 6500 RPM and a brute torque of 900 Nm (665 lb-ft) at 5700 revs.
After the maximum speed limiter was removed, the SUV can even show-off with beefy 315 km/h into the airstream. And if you aren't keen on that much power, Manhart is offering a "small" Power Stage with 640 hp (471 kW).
Looking Good or Better?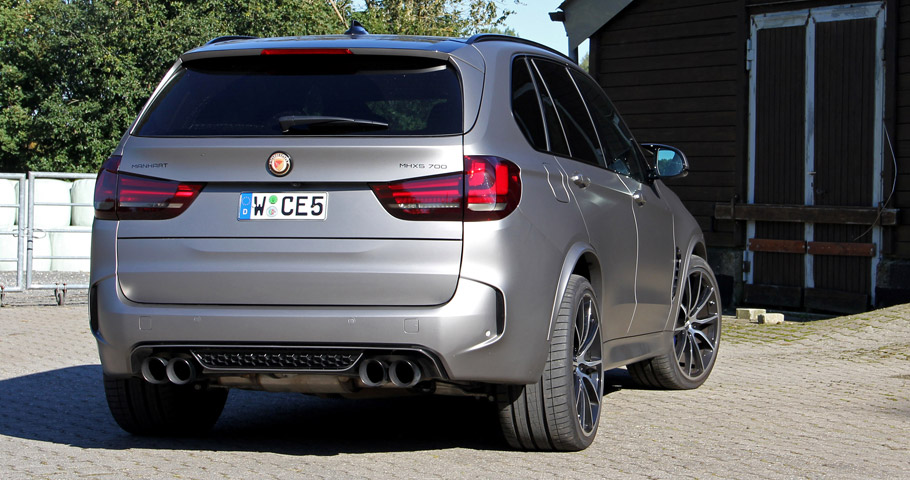 In terms of exterior appearance there hasn't been done much. But it is in fact sufficient. First we should pay attention to the custom-built foil coverage that comes in Grey Matte. And then we should look lower and spot the 10.5x22 and 11,5x22 inches BBS SV rims. They were fitted with Vredestein Ultrac Vorti high performance tires dimensioning 295/30ZR22 front and 335/25ZR22 rear.
In order to sit lower to the ground, the modified X5 M received H&R lowering springs. They bring it 35mm closer to the ground but also maximize its cornering performance. Even better, there is no loss of the offered comfort.
Inside there is a single change and it includes a new extra AWRON display, which informs the driver about all important MHX5 700 operating parameters and driving dynamics values.
So, which one is your favorite tuning from today?
Source: Manhart Performance