Mazda Motorsports Releases Global MX-5 Cup Racecar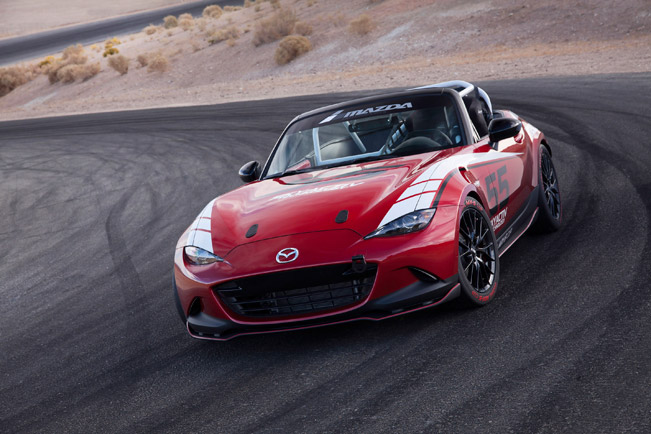 Mazda MX-5 Miata is one of the best selling roadsters around the globe. In addition, this is the most road-raced car in the world and its fourth generation has been just released. At the SEMA show the Japanese company announced that the new 2016 Mazda MX-5 Miata will be raced in a new Global Cup series in North America, Europe and Asia. The racings will culminate at the end of 2016 with a Global Shootout at Mazda Raceway Laguna Seca in Monterey in California.
Unfortunately Mazda did released only pictures of the Mazda Global MX-5 Cup racecar. There are no final specifications released, equipment details or technical partners for the car. The only thing confirmed by Mazda is that the cup racecar will be equipped with a 2.0 liter SKYACTIV-G four cylinder engine.
In fact, the car is currently in development. From this winter Mazda Motorsports will select the optimum tires, suspension and powertrain and safety modifications.  The final specifications will be announced in 2015. Then will be also the time when Mazda will be ready to accept orders.
Full details of the Global MX-5 Cup, including which countries will be involved and when the races will take place, is soon to be announced. 2016 Mazda MX-5 was revealed officially in the beginning of September with events held simultaneously in Japan, USA and Spain. The car will enter the global markets in 2015.
Source: Mazda