Mazda Unveils Tokyo-Bound RX-VISION Concept

Mazda RX-VISION Concept is one of the main attractions at the Tokyo Motor Show. The car previews the future plans of the brand in terms of design end engine technology. Since Mazda is creating one of the most attractive cars nowadays, just looking at the pictures of this incredibly beautiful car, and you'll know why we are really looking forward to the implementation of it's design in the future.
SKYACTIV-R Rotary Engine
Believe it or not, the most exciting thing about this vehicle is not its shape and color, but its powertrain. The RX-VISION is powered by the next-generation SKYACTIV-R rotary engine. In fact, Mazda sees new potential in the powerplant that is 'synonymous with the brand' as it states. In other words, the engine is built over an unconventional technology that is one of the most compelling symbols of the carmaker's challenger spirit.
SEE ALSO: Mazda Sports Car Concept Teased Ahead of Tokyo Premiere
The front-engine unit is exquisitely proportioned, it drives the rear-wheels and as Mazda says, it 'represents a "vision" of the future that could only come from Mazda'. You might ask what is so special about the rotary engines. They are unique because they generate power through the rotational motion of triangular rotors. For comparison, the conventional engines have reciprocating pistons.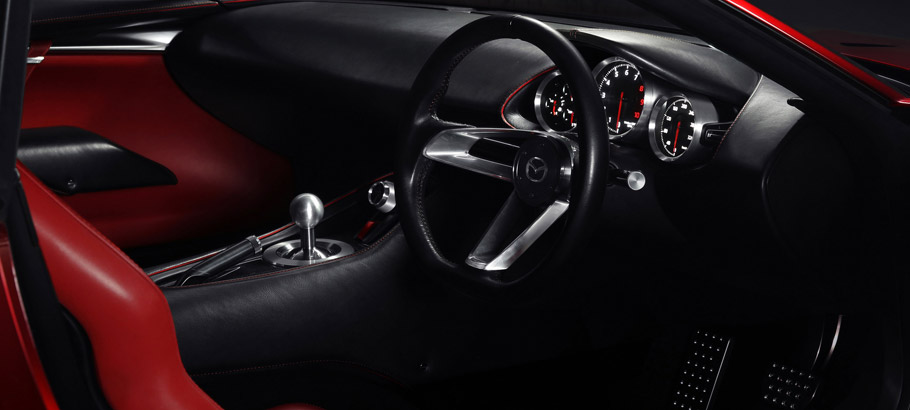 Mazda has already used rotary power in the Mazda Cosmo Sport 110S in 1967 and then in Mazda RX-7, which was the most successful model produced between 1978 and 2002, and with 800 000 units sold.
Now, with the new rotary engine, called SKYACTIV-R, the carmaker expresses its determination and aim to delivering its customers convention-defying technology and an uncompromising SKYACTIV experience behind the wheel.
And if you happen to be in Tokyo, go see the RX-VISION Concept. Tokyo Motor Show opens for public visits from 30 October to 8 November.
Source: Mazda