What Happens When You Optimize the Engine of BMW 220i and Turn it Into MC320 Project?

The original output of the BMW 220i that comes from the 2.0 liter-turbo unit is 184 horsepower (135 kW) and 366 Nm (270 lb-ft) of torque. With so much inner power the car is capable of producing no less than 235 mph. Although these numbers might seem pretty attractive to many, BMW fans aren't easily satisfied when it comes to 'taming the horses'.
This is why the specialists at mcchip-dkr have developed power and economy optimization for exactly this model. We know that they are very skillful in the software optimization, but this time there have been added some extra changes to make the car more attractive in terms of performance.
SEE ALSO: mcchip-dkr Mercedes-AMG GT S Likes Nothing Stocks 
The result has been even called with the name MC320. And besides the level three software and the "MC320" upgrade, this project also features new turbocharger, highly efficient downpipe plus a 200-cell-sport-catalytic and a larger intercooler.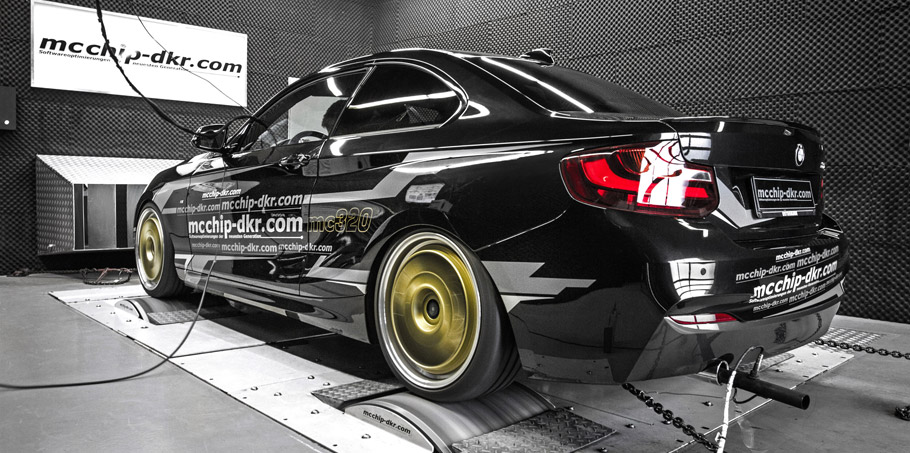 There are actually two "assembly kits" available. After the installation of the first one, the horsepower jumps to 255 HP (188 kW) power, while the Newton meters to (542 Nm) 400 ft-lbs of torque. The top speed jumps to 250 mph.
The alternative "MC320"-kit offers a total power output of 320 HP (235 kW) power and 590 Nm (435 ft-lbs) of torque and a max speed of 260 mph. The latter actually includes the level three software plus the "MC320"-upgrade for the turbocharger plus the downpipe and the 200-CSPI-sport-catalytic.
At last but not of importance are the new outstanding rims by MBDesign. They are of type LV-1 and come in 19-inch size and fitted with appropriate tires.  Driving dynamics have been aided by the KW-coilover suspension version three, while the visual appearance has been strengthened by unique foil-wrapping.
Source: mcchip-dkr