MCCHIP-DKR Gives More Power To Mercedes-Benz A45 AMG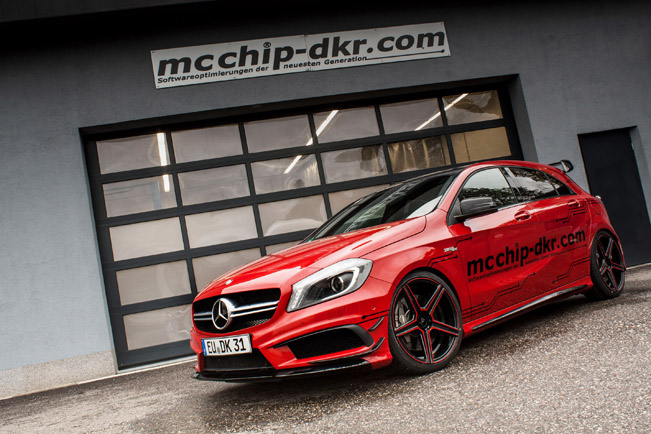 After the entire transformation of the new Mercedes-Benz A-Class one can not even recognize the car. It literally has nothing to do with the previous year-models and exudes class, sportiness and more masculine presence on the road. In February this year Mercede-Benz introduced the top model of the line-up – the A45 AMG.
The latter became an object of interest for the tuners at MCCHIP-DKR, who decided to give it more power. The production model is equipped with 2 liters-engine with twin scroll turbo and delivers outstanding driving characteristics on sport car level.
After the modification in terms of power that the specialists at the tuning team have made, the serial power of this A-Class was increased from 360 hp (265 kW) and 450 Nm (332 lb-ft) of torque up to 400 (295 kW) and 535 Nm (395 lb-ft) only via software optimization at Stage One.
At Stage Two, the power was increased up to 420 hp (309 kW) and 535 Nm (395 lb-ft) of torque with software optimization plus sports cats, while at Stage Three it reached a power range of 450 hp (331 kW) and 550 Nm (406 lb-ft) of torque an gained an additional turbocharger upgrade.
The power enhancement wasn't the only modification done in this project. The tuners "touched" also the chassis of the A45 AMG with KW Clubsport coilovers. In terms of wheel-tire-combination, the car now runs on mbDesign KV1 wheels in size 8,5x19 inches matched with a Sport Maxx Race Dunlop tires in dimensions 235/35ZR19.
Source: Miranda Media