Mercedes-Benz Actros: CO2 world champion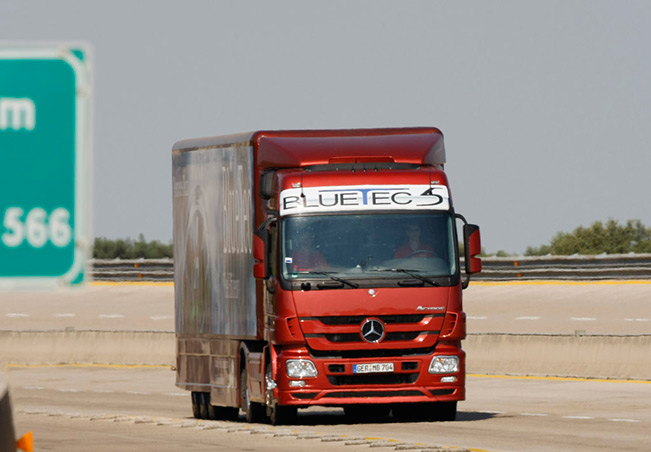 A 40-tonne truck has turned the dream of a 'one-litre car' into reality: as the result of a test drive at Nardo in southern Italy, the new Actros tractor-trailer from Mercedes-Benz has set a world record as the most fuel-efficient truck in its category. The Actros was driven around the clock for seven days hauling a 25-tonne payload at an average speed of 80 km/hr for a total distance of nearly 13,000 km.
Its fuel consumption around the test course was exactly 19.44 litres of diesel per 100 km, or the equivalent of less than 0.8 litres per 100 tonne-kilometres (tkm). This was a feat that has won the Mercedes-Benz Actros an entry in the Guinness World Records in the "most fuel efficient truck" category. "With a fuel consumption of 0.8 litres per 100 tonne-kilometres, the Mercedes-Benz Actros demonstrated that the automotive vision of a 'one-litre car' is already a reality," declared Andreas Renschler, Member of the Board of Management of Daimler AG and Head of Daimler Trucks Division.
As a result of its low fuel consumption, the 40-tonne tractor trailer also performs considerably better in terms of environmental friendliness. The Mercedes-Benz Actros produces a mere 20.5 g of CO2 per tonne-kilometre (g/tkm), significantly less than currently available hybrid trucks (combining combustion and electric motors), which emit 297 g/tkm of CO2. Even the yet-to-be realised 'one-litre car' would produce as much as 53 g/tkm of CO2.
Efficient drive technology
Highly efficient state-of-the-art Mercedes-Benz technology underpins these record-breaking results. Over the decades, the diesel consumption of Mercedes-Benz trucks has been reduced by more than a third, while transport capacity has increased by the same degree. In the last few years, BlueTec diesel technology has brought further substantial progress: two to five percent lower fuel consumption, or, depending on the application, annual savings of 1,500 litres to 2,000 litres of diesel per truck. And every litre of diesel fuel saved translates into 2,640 g less CO2 emitted into the environment. Today, there are already 150,000 Mercedes-Benz BlueTec trucks on the road.
Further development of Fuel Efficiency drive systems forms part of Daimler AG's Shaping Future Transportation initiative. Within this context, the world's largest manufacturer of commercial vehicles presented its work in the field of environmentally compatible and future-oriented drive systems in the autumn of last year.
Fuel consumption can be reduced
The fuel consumption test in Nardo also illustrated what factors increase fuel consumption on the road: inadequate transportation infrastructure and a lack of traffic management, incorrect vehicle configuration, inadequate vehicle maintenance and inefficient driving practices.
Correct vehicle configuration can influence fuel consumption right from day one. Installing additional aerodynamic equipment, for instance, will lower diesel consumption by up to ten percent. The same applies to tyres. Mercedes-Benz offers super-wide rear-axle tyres for its trucks, instead of conventional twin tyres – affording potential fuel savings of up to two percent. Insufficient tyre pressure, however, is the greater culprit, and can in­crease fuel consumption by up to eight percent.
Anticipatory driving
Anticipatory driving offers potential savings of between ten to twelve percent. Mercedes-Benz Professional Training offers economy programmes for truck drivers that focus specifically on these kinds of savings. These courses are part of what has become the world's largest training facility for truck drivers, which boasts some 65,000 participants a year. Through taking greater responsibility for driving practices and the vehicle's maintenance condition, each driver can actively influence fuel consumption by about one quarter.