2013 Mercedes-Benz SL Roadster with market launch
What other car can deliver supreme sportiness, style and comfort other than Mercedes-Benz SL Roadster from Mercedes-Benz. In just in a day it is going to be available at all dealerships of the brand.
2013 Mercedes-Benz SL Roadster has a body-in-white, which was produced from all-aluminium constructions as this happens for the first time.  The customers can choose between two new powerful 6- and 8-cylinder engines featuring cutting-edge injection technology. In addition the ECO start/stop function comes as standard. What is specific about these newly developed engines is that they are saving up to 29 percent more fuel than their predecessors.
Additional innovations included in the Roadster are the Frontbass system for the ultimate in listening pleasure, and the MAGIC VISION CONTROL wiper/washer system. The altter applies the water to the windscreen directly from the wiper blade.
The new generation of the Mercedes-Benz SL-Class is all about lightness. May be you have no idea what the abbreviation "SL" stands for. Well, to answer thoe who still are wondering – it means "super-light". Systematic weight reduction is one of the key structural design features of the new SL.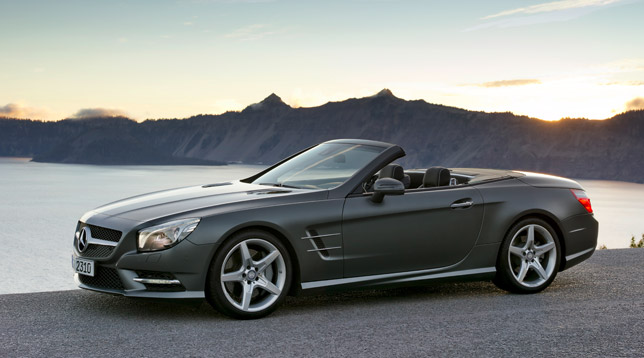 Furthermore, 2013 SL includes another debut: an all-aluminium body-in-white. Of course, all is done in the name of "lightness". Combined with a host of other intelligent improvements to points of detail, this leads to an overall weight reduction of up to 140 kilograms in comparison to the predecessor model. What is more here is that the aluminium structure is also superior to the predecessor's steel design in terms of rigidity, safety and comfort. Maybe this is one of the safest Roadsters in the world.
Moreover, the new SL-Class has high environmental compatibility: it reveals advantages over the previous model in all impact categories. Primary energy requirements have been reduced by 23% and NOx emissions by 16% over the entire life cycle. In addition, the new SL was built with higher percentage of high-quality recyclates and renewable raw materials. What has to be highlighted here is that for the first time in automotive industry, a secondary alloy has been qualified for aluminium inner panels in the body-in-white, thus minimizing the environmental impact in the manufacturing process.
Prices for the new 2013 Mercedes-Benz SL Roadster start at 93,534 euros.
Source: Mercedes-Benz