Mercedes-Benz Vision GL 420 Bluetec
Mercedes-Benz is continuing its US diesel initiative with the presentation of another concept vehicle at the Detroit Auto Show. The Vision GL 420 BLUETEC demonstrates that, thanks to BLUETEC® technology, even large, high-performance SUVs can offer economical fuel consumption and extremely low emissions. Boasting a powerful V8 diesel engine, which develops 216 kW (290 hp) and 700 Nm (515 lb ft) of torque, the anticipated fuel efficiency for the new SUV is just 9.8 litres per 100 kilometres (24 mpg). This impressive combination of high power, torque, fuel economy and operating range ensures that ® vehicles offer an ideal drive concept for the American market.
With its powerful V8 diesel engine, which develops 216 kW (290 hp) and a mighty 700 Nm (515 lb ft) of torque, the Vision GL 420 BLUETEC guarantees the very highest levels of performance. Yet this same compression-ignition engine complies with the stringent US BIN 5 emissions standard, makes do with just 9.8 litres of fuel per 100 kilometres (24 mpg) and has a range of up to 1000 kilometres (600 miles) on a full tank. These impressive figures underline yet again that BLUETEC® vehicles are ideally suited to the American market, where heavy customer demand – especially in the SUV segment – for vehicles with torquey, large-displacement engines is coupled with the need to comply with stringent exhaust-emission regulations. Furthermore, higher fuel prices mean that models with better fuel economy are growing in popularity.
The unique styling of the Vision GL 420 BLUETEC adds visual emphasis to the special status of this model and also addresses the Mercedes-Benz USA customers' wish for vehicles with an even greater degree of exclusivity and a strong, individual identity. The revised, distinctively sculpted front with the dominant radiator grille serves as a visual idiom for the exceptional performance of the V8 diesel engine and lends the Vision GL 420 BLUETEC a sense of dynamic forward movement – even when stationary. This assertive look is complemented by the flared wings, imposing 21 inch wheels and running boards.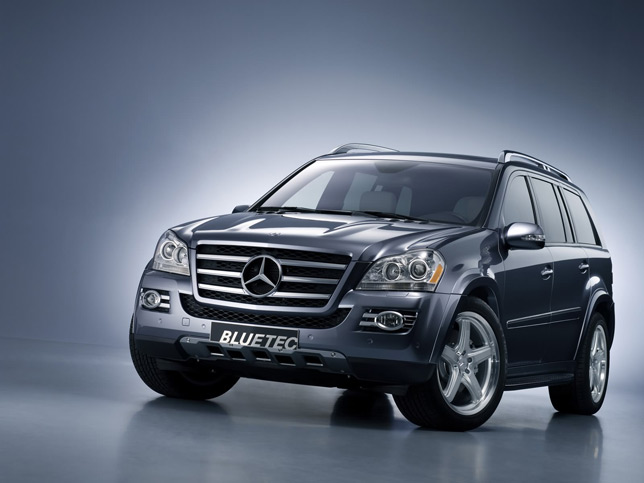 Systematic expansion of the BLUETEC® model range
The latest J.D. Power study "Global Outlook For Diesel" forecasts that diesels will account for more than 15 per cent of new registrations in North America by 2015. On this basis, Mercedes-Benz will systematically expand its BLUETEC® range. The company has announced that it intends to offer three new BLUETEC® models (the R, ML and GL Class) – meeting the even more stringent BIN 5 standard – in all 50 US states by as early as 2008. But BLUETEC® vehicles are more than just the cleanest diesel models in the world. They also consume 20 to 40 per cent less fuel than comparable vehicles with spark-ignition engines. For example, the E 320 BLUETEC, which is already on the market, consumes just 35 mpg or 6.7 l/100 km, making it by far the most economical vehicle in its class in the USA.
BLUETEC® – technology for the cleanest diesels in the world
BLUETEC® is a modular emissions control system that reduces nitrogen oxides in particular. These are exhaust components from diesel engines, which, as a result of the constraints inherent in the diesel combustion process, exceed the levels generated by petrol engines. Mercedes-Benz has developed two versions of BLUETEC®. In the E Class, an oxidation-type catalytic converter and particulate filter are combined with an improved, extremely durable NOx storage catalytic converter and an additional SCR catalytic converter. The second BLUETEC® version is even more efficient: AdBlue, an aqueous urea solution, is injected into the exhaust gas flow, a process that releases ammonia, which converts up to 80 per cent of the nitrogen oxides into harmless nitrogen and water in the downstream SCR unit.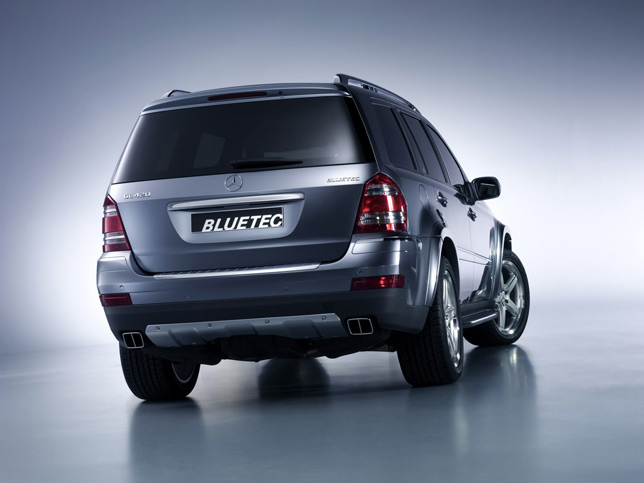 Available at last in USA: low-sulphur diesel fuel
In order to be completely effective, BLUETEC® technology for passenger cars and light trucks requires low-sulphur diesel with a sulphur content of less than 15 ppm. This clean fuel, which became available in USA in the autumn of 2006, also reduces the emissions from all diesel engines currently on the market and therefore plays a key role in cutting emission levels in general.
BLUETEC® technology was subjected to a particularly challenging endurance test in the autumn of 2006 when a total of 33 E Class models, including three E 320 BLUETEC vehicles, drove from Paris to Beijing in 26 days. In an impressive demonstration of the robustness and quality of this technology, the vehicles performed outstandingly well under extreme conditions on the 13,600 km trip.
Recognition for BLUETEC®
Die BLUETEC has met with an extremely positive response in USA: respected American science and technology magazines recognised the Mercedes-Benz-developed BLUETEC® technology at the end of 2006. Scientific American selected BLUETEC as one of the top 50 scientific and technological innovations of 2006. Popular Science, the oldest and best-known American science magazine included BLUETEC in its annual "Best of What's New" list. And Ward's Automotive Group, a leading publisher of a number of media and trade magazines for the automotive industry, has nominated the E 320 BLUETEC engine for its list of ten best drive systems in 2007.