Surprisingly Similar: What Happens When We Compare 2016 Miata to a 2015 Boxster?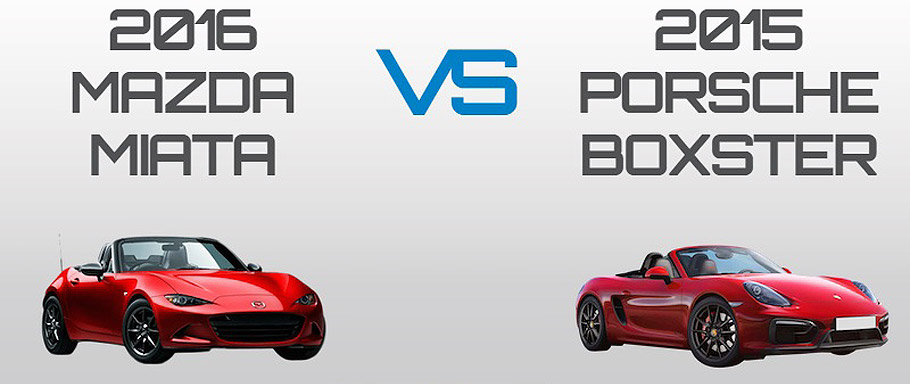 2016 Mazda Miata and 2015 Porsche Boxster are two vehicles, which are famous for its origin, heredity, immense performance capability and compact dimension. But what happens when we compare both and how different is the Miata from the Boxster? Mazda has just released an Infographic displaying a parallel between the cars and you can view it below. It gives a good comprehension of how the one is different from the other.
Of course, even without the image, the first thing that pops-up in mind is the pricing. There is huge price difference between those two. The Miata is actually more than 50% of the cost of the Porsche. However, the Mazda is also as capable as the Boxster and it covers more than 90% of its performance.
SEE ALSO: 2016 Mazda Miata MX-5 Comes With Upgraded Set of BOSE Audio System 
In addition, both cars have a very similar 0 to 60 time, quarter mile times and braking distances. But while the new Miata has a smaller 2.0L 4-cylinder engine than the Boxster's 2.7L flat six, it only trails the Boxster by 0.3 seconds in a race from 0-60. Even more, Miata beats the Boxster in terms of fuel economy.
Another advantage of the Mazda is the power to weight ratio. It is almost unbelievable that it is considerably higher than the Boxster (14.9:1 vs 10.9:1). Thanks to it, the Miata runs the quarter mile in 14.6 seconds, which is only 0.6 seconds slower than the Boxster.
SEE ALSO: Porsche Boxster and Cayman with new Engines In 2016
Surely, Porsche's braking performance is superior. Boxster's braking distance is evaluated from 70 to 0 (158 feet vs 145 feet). However, Miata's curb weight is nearly 500lbs lower. This keeps the brake distance within 10% of the Porsche's performance.
Well, Porsche is always a Porsche and when we buy one, we are always counting on the prestigious name and all that comes along with it. But we have to admit that Mazda has done something amazing with the 2016 Miata. In other words, the specialists have created a car that is very similar and even comparable to a much more expensive car like the Boxster. How cool is that?
Don't forget to take a detailed look at the Infographic below. It gives a lot of insights for the similarities between both two models.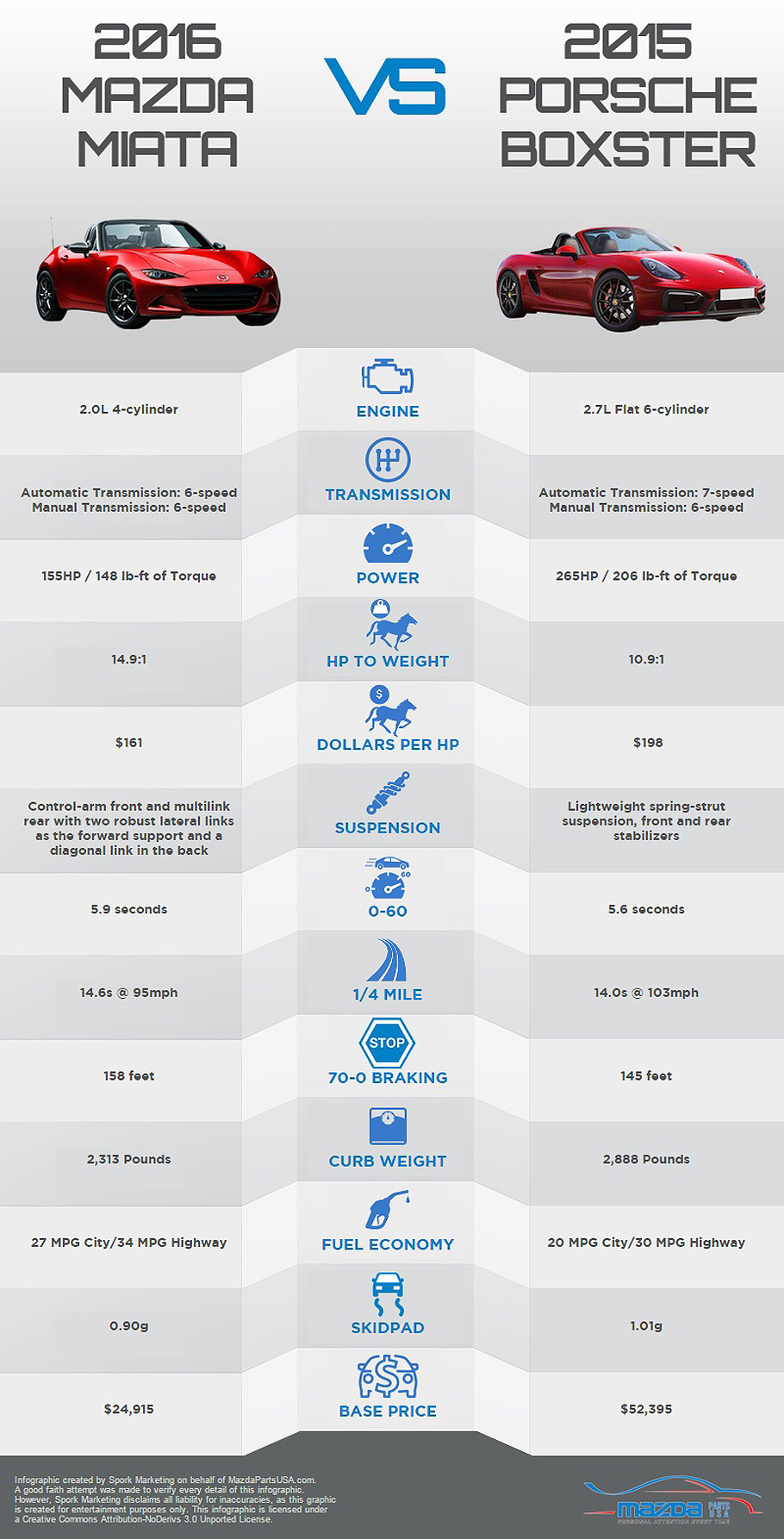 Source: Mazda