Mini Clubman S and Mac Audio System. Musical Fairytale or Wolf in Sheep's Clothing?

Mini Clubman S received a special attention by Mac Audio team. As you know, the boys of Mac Audio are the masters, when it comes to audio systems: it doesn't matter, if you want to upgrade with larger speakers, subwoofers, amplifiers or anything else, the right place for you is the Mac Audio office. And now the Mini Clubman S comes with numerous upgrades and tweaks, that only the Mac Audio guys can install on a vehicle.
And with all the components on the Mini, the audio engineers created another masterpiece. Now, the lucky passengers can listen to music like never before. But not only with the high volumes and power. The quality of the sound also means dynamic characterization, high-quality components and of course, the superior abilities and craftsmanship. The audio system brings a crystal clear, fine tuned and authentic sound
The Mini and the Beast
The system comes with these components: 3 pieces of programmable computerized amps, digital sound processor and Mac Audio Reference 2.1 DSP, that brings the extra power and the boost for even more powerful and clear sound. And Apropos loudspeakers. Mac Audio Star X 2.16. Two of them. And all the system components are tamed and commanded by Audiovox VXE 7020 NAV unit. And the last component is a rear camera. Yes, the audio system comes with camera. Why? To prevent the eventual damage, when driving and parking backward. How cool is that?
SEE ALSO: Maxi-Tuner MINI John Cooper Works is 260HP and 390NM Strong!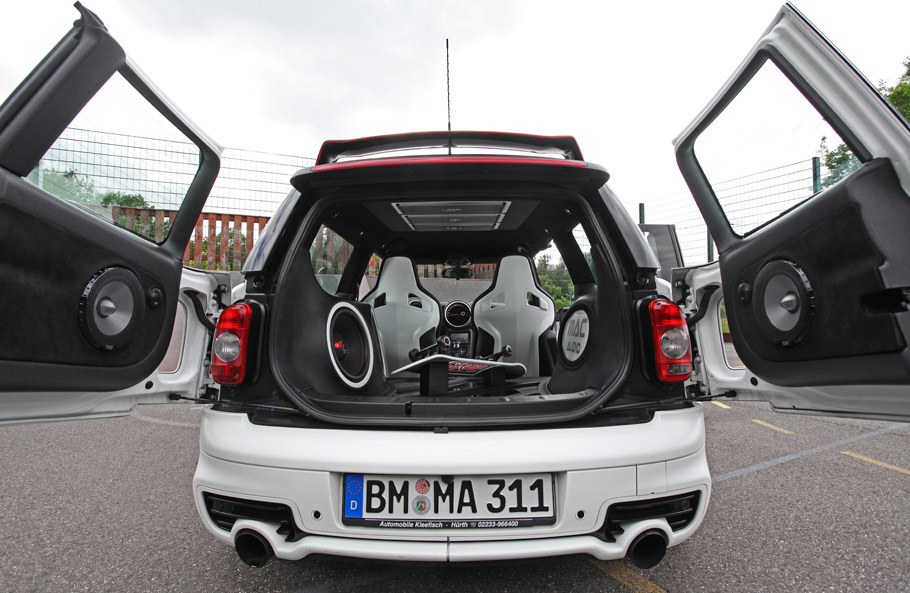 And of course, the system comes with highest quality cables and power supply units. In this case the Mini is geared with SP 1000 battery and two Mac Audio Cap 1.2 Farad condensers. Long story short, the whole audio system can confidently control the dynamics, which means even better audio experience.
But this is not all
Not only the inside of the Mini was shaped in the style of Mac Audio. The exterior of the vehicle also received numerous changes and upgrades. Now the Mini is geared with a John Cooper Works body kit. Furthermore, there is also a special painting and graphics, that cover all the body. There are numerous Mac Audio writings and logos, along with the interesting color scheme. Furthermore, the car comes and with Oxigin 15 rims in 8x18-inch fitted with Yokohama S-Drive AS01 tires.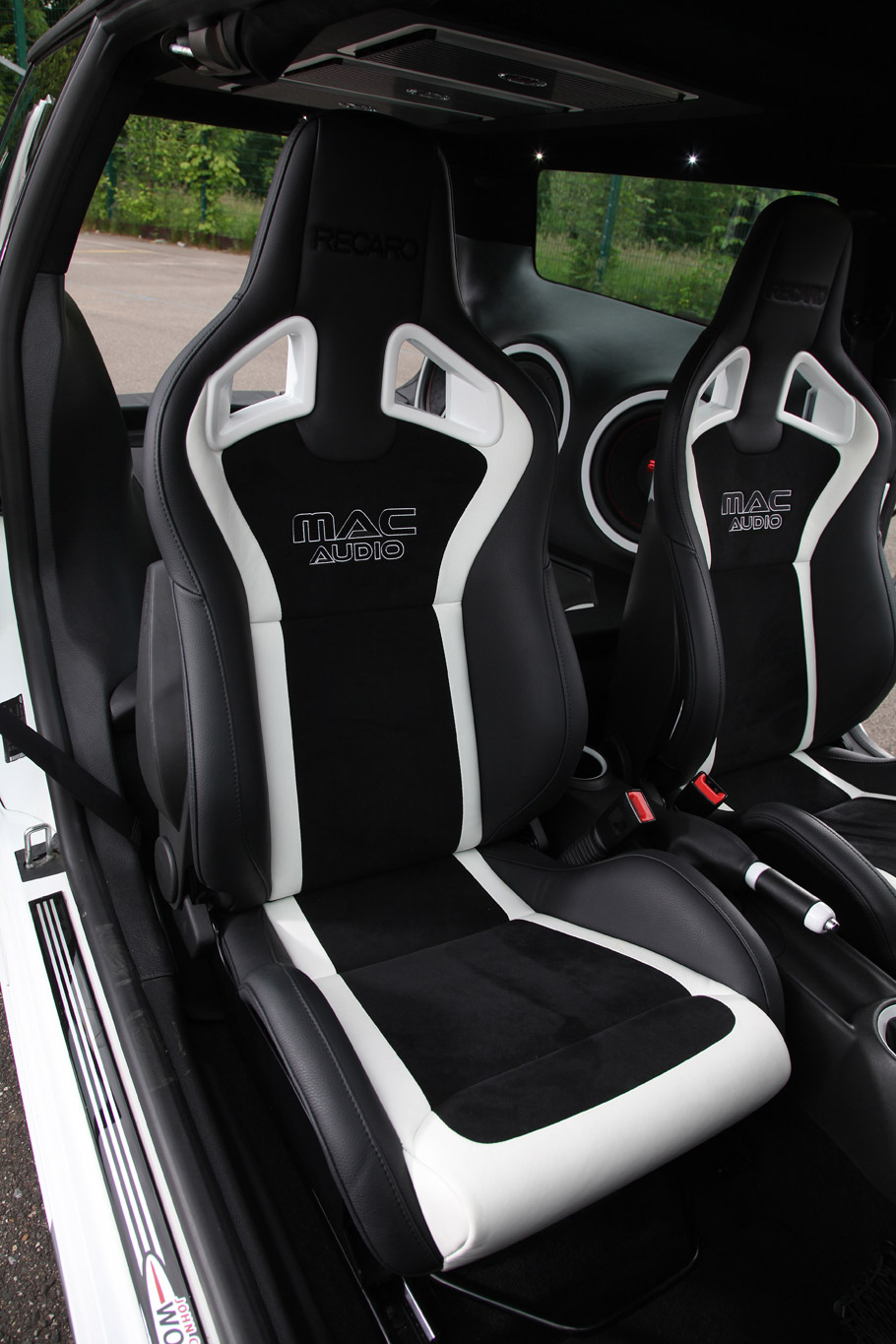 And along with the audio power, there is a also additional power in the drivesystem. The powerplant is optimized and now has a total output of 230 hp (169 kW) and 365Nm of torque. The top speed is also higher and it is measured at 239 km/h (148 mph). And with the high power comes and high-power brake system. The Stoptech 4 system makes sure, that the high speed and power will be tamed in every single moment.
Source: MINI