Minitune Enhances Mini Cooper S R56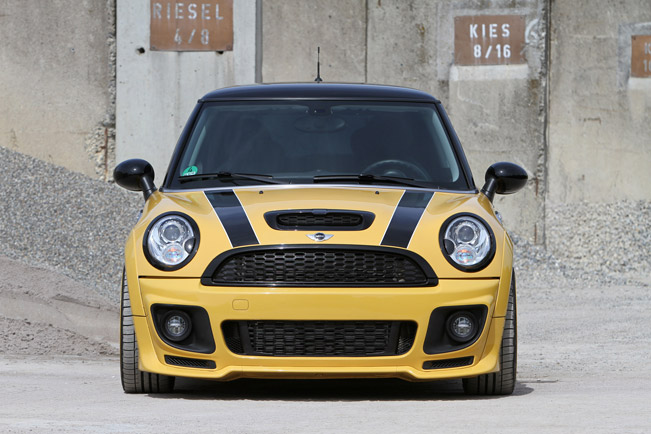 Minitune Mini Cooper S R56 is a project of a brand new company, which is committed completely to the enhancing of vehicles of the model portfolio of the German premium compact car producer with British roots. Via a new body kit, wheels and performance boost the tuners have tailored a fashionable outfit for this Mini. To be more precise, the company's Minitune body kit consists of a front spoiler bumper bar with big inlets, a black front grill, side skirts and a rear apron in diffuser optics and roof spoiler in racing looks.
In addition, Minitune integrated an air inlet with a formed scoop in the engine hood. Every reflective surface of the car has been lacquered in glittering black, in order an unmistakable sportier appearance to be achieved.
At the back, we can see dark LED rear lights and fog tail lamps in Union Jack design. To match the color of the bodywork, Minitune endowed the Cooper S R56 with a set of Motec Nitro single piece wheels in black with outline in matching car color. They come in the size of 8x18-inches and are covered with Kumho tires of the dimension 215/35R18.
The brake calipers have been also painted in the matching car color. Perforated EBC turbo groove brake disks on the front axle with EBC red stuff brake pads are also at hand. The brake upgrade is a reasonable counterweight to the performance boost.
The car's power has been enhanced from 174 horsepower (128 kW) and 240 Nm (178 lb-ft) to the present 218 horsepower (160 kW) and 319 Nm (235 lb-ft). Minitune also mounted a better high-performance charging air intercooler.
Furthermore, a sports exhaust system made of stainless steel including the 200-cell sports catalyzer has been added. It features a centrally positioned double tailpipes that ensure the sound background to match the evolved performance. At last, Minitune Cooper S also features a sports chassis frame from the specialists of Koni. It delivers more agility and excellent driving comfort.
Source: Minitune