MTM Refines Volkswagen Golf 7 R 4Motion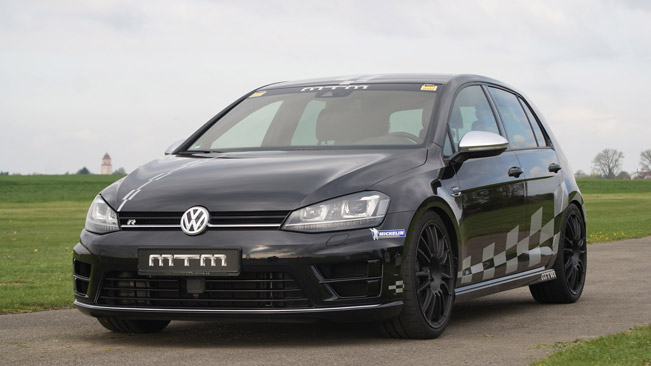 MTM Volkswagen Golf 7 R 4Motion delivers much more than the standard for the Golf 7 R Motion 300 hp horsepower. The production model is fitted with a 4MOTION all-wheel drive system and has a towing capacity of up to 2,000 kg. In other word the Golf 7R 4Motion is the perfect vehicle for high standards. After MTM has worked its magic, the car effortlessly operates on a different plane. The tuners have enhanced the engine and it now produces 360 hp (265 kW) and 450 Nm (332 lb-ft) of torque.
On its way to the top speed of 250 km/h it covers the acceleration sprint from 0 to 100 km/h for only 4.2 seconds. The modified powerplant owes this power to MTM's M-Cantronic module, fitted in only 90 minutes.
In addition, the front wheels are held in check by company's 380x34 mm eight-piston brakes. The rear axle is served by the ideally sized standard brake system.
The power is transmitted onto the road via Nardo wheels in the dimension of 8.5 x 19s. They are shod with Michelin Pilot Sport Cup 2 tyres in size 235/35 ZR 19, that also provide great road grip.
At the rear, four tailpipes have been mounted. They also show that MTM's ideally matched exhaust system doesn't just look good but also exudes the good taste cultivated among Golf fans.
Source: MTM