2015 Lincoln Navigator - Big and Versatile
The new 2015 Lincoln Navigator has an all new bold and stylish design. With an updated exterior, it now wears the brand's signature, split wing chromed grill, giving the car an aggressive look.
For the 2015 Lincoln model you have the option for power running boards in chrome. HID headlamps are standart. Of course the truck's rear has received some nice design enchancements as well.  Another option is the 22-inch aluminum wheels which look amazing on the car.
Something more important than style is the all new power train- a 3.5-liter Eco boost V6 engine. The twin turbo charger along with direct fuel injection will push up to at least 380 hp (283 kW) at 5,250 rpm and 460 lb.-ft. (623 Nm) of torque at 2,750 rpm. The standard 4x2 Lincoln Navigator offers best in class fuel economy rating, of 22 mpg US (10-liters/100 km) highway, 16 mpg US (14-liters/100 km) city and 18 mpg US (13-liters/100 km) combined, while the standard 4x4 Navigator gets 20 mpg US (11-liters/100 km) highway, 15 mpg US (15-liters/100 km) city, and 17 mpg US (13-liters/100 km) combined, and towing capability of 9000 pounds (4082 kg). A six speed automatic transmission is available for either the rear or all four wheels.
The first thing you notice once you get inside the cabin is the 4.2 inch LCD screens that are behind the gauge cluster. Controlled through the steering wheel, you also have the touch screen system as well. The instument panel is redesigned and covered in super soft leather. Couple of other things that are offered by this Lincoln model is the MyLincoln Touch™ system, which is really hand-on easy to use. Another thing is the EC and heating luxurious, leather-trimmed seats for the driver and the passengers alike which are power-adjustable. There is an engine start/stop push button which makes starting or stoping the car a lot easier. The armrest in the back seat row provides nice extra storage.
The trunk offers over 86 cubic feet of storage. One thing that really opens up space is an option to configure the seats for seven passengers. In my opinion, that comes nice with the two bucket seats up front, while being able to put additional 3 back in the car. There are some little things that make life easier, however, and those are the power folding seats in the third row, which were just mentioned, they are a must for such a high standard vehicle.
Pricing for the 4×2 standard models is valued at $62,475 USD,while the 4×4 version is estimated at $68,215 USD.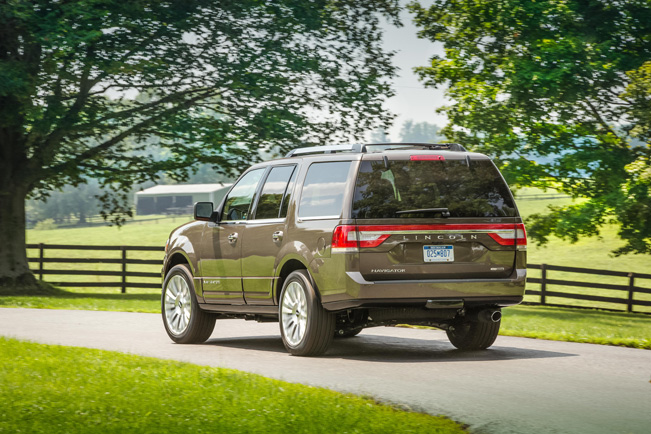 Source: Lincoln