New Nissan 370Z: Pricing And Grades
As with its predecessor, the 370Z will be available in an uncomplicated grade structure to simplify the ordering process which commences online from Monday 2nd February. First customer deliveries are due in July.
The entry level 370Z, priced at £26895, comes equipped with Intelligent Key, engine stop/start button, power adjustable seats, climate controlled air-conditioning, 18" alloy wheels, automatic xenon headlamps, curtain airbag, alarm, audio with auxiliary input and Bluetooth hands free phone connection.
GT Pack priced at £30195 gets 19" forged RAYS alloy wheels, heated seats trimmed in black suede and leather, a six-CD Bose audio system with eight speakers, cruise control, speed limiter and Synchro Rev Control; a new innovation that automatically matches the revs, during up and down-shifts, with the manual gearbox, making gear changes faster and smoother.
Topping the range and priced at £31895 is the GT Ultimate which includes Persimmon suede leather along with a DVD satellite navigation system with full European mapping covering 33 countries and voice guidance in seven languages. Hands free operation is possible with voice recognition which also integrates with the MP3 compatible audio system.
As well as the introduction of the Synchro Rev Control to the six-speed manual gearbox, the 370Z is now offered with a new 7-speed automatic priced at £1400. It is equipped with Downshift Rev Matching (DRM) and is designed to offer quick, manual-like shifting when operated in manual mode, using either the gear selector or paddles behind the steering wheel. In automatic mode, the driver can relax and let the gearbox change gear, reacting to the driving style to choose the most appropriate shift-mapping.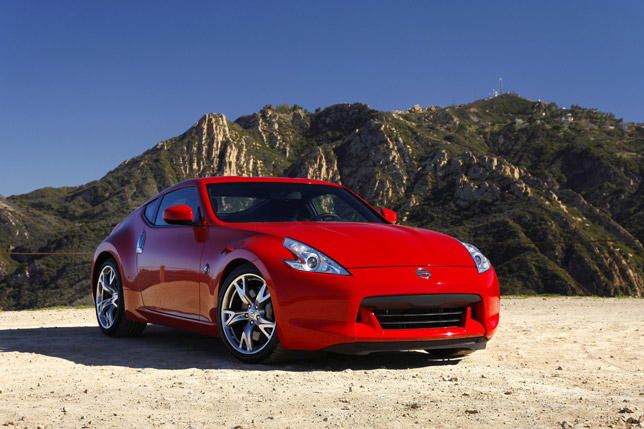 Metallic paint is the only other option available for £450 and with this you also get Nissan's Scratch Shield Paint*, which, thanks to its advanced resin coat, automatically repairs the light scratches and blemishes which are typically collected by light stone chips.
Customers and enthusiasts are also encouraged to visit Nissan's dedicated new micro-site for the car, where they can register their interest in the car, see images and films and download the 370Z Widget to their desktop, which will automatically update them with news and developments.
Compared with the outgoing 350Z, the new 370Z now sports a shorter wheelbase, greater use of lightweight body materials resulting in a weight reduction of 32kg, updated engine with more horsepower, all of which combine to improve its agility and responsiveness.
As its new moniker suggests, the new 370Z is now powered by a 3.7-litre VQ37VHR engine with VVEL (Variable Valve Event and Lift). Power is rated at 331PS, while torque is 366Nm. Along with its larger displacement, the new engine gives better power delivery all the way to the 7,500rpm redline, improved low-end power and more high-end torque.
Inside, buyers will welcome the removal of the rear strut brace (replaced with less intrusive structural reinforcements) and the addition of a new "shelf" area behind the seats, creating an ideal storage area.  A retractable cover is standard on the 370Z and a locking glove compartment has also been added.
Life on board has been improved thanks to the addition of an engine start and stop button, larger diameter dials and the use of soft touch materials on the instrument panel, stitching on the centre console, leather and suede on the seats and doors, as well as a black roof lining (depending on grade).
UK deliveries will begin in July 2009.