New Opel Antara with Front-Wheel Drive: Loads of Space at Lower Cost
Opel now offers the Antara with front-wheel drive for active people and families who seek space and high seating and prefer the look of a crossover. By opting for a 4X2, buyers have a cost savings on a car that already offers high value for money. The Antara front-wheel drive is available with the Common Rail Turbo diesel 2.0 CDTI with 93 kW/127 hp as well as the 2.4 liter gasoline engine with 103 kW/140 hp. Regardless of the motor chosen, the price of the front-wheel drive is 2,000 euros less than Antara's all-wheel version: The gasoline Antara FWD costs 25, 970 euros, while the diesel sells for 27,880 euros in Germany.
The technologically sophisticated five-seat crossover boasts the handling of a passenger car, with generous interior space despite compact exterior length of 4.58 meters in length. At the same time it offers a high level of functionality, with a raised seat position for high visibility and innovative transport features like the "Flex-Fix" carrier system, which can easily be pulled out from the rear bumper to carry up to two bicycles.
The interior echoes the style and elegance of a top-of-the-line sedan. Heated front seats, electronic climate control, 17-inch alloy wheels and a leather steering wheel are just some of the comfort features that are standard in the Antara Edition Plus. Trailer Stability Assist is another standard feature that reinforces the high value for money in the crossover vehicle.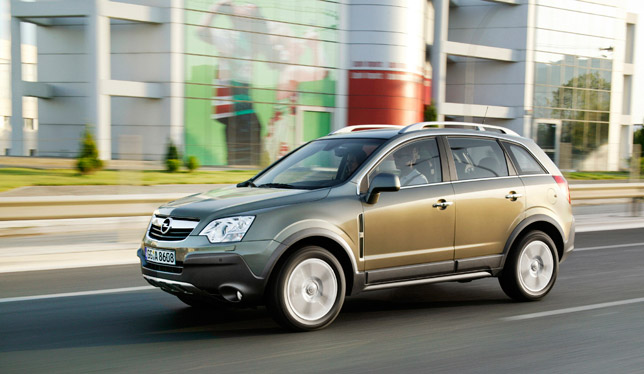 Starting in summer 2009, the interior of the Antara Edition can also be ordered in the Morocanna Fabric in black or beige without any extra cost. The Cosmos trim level will offer a choice of black or beige leather as standard. In addition, linen beige will be a new color available as standard, starting in mid-2009.
Moreover, with its electronically networked chassis and precise, speed-dependent power steering, the Antara offers a smooth drive. Its sleek, harmonic styling fits well in city, suburban and country settings. The hatchback and storage space make it easy for owners to throw in gear and groceries and be on their way.
The 93 kW/127 hp-strong 2.0 CDTI common rail diesel engine needs only 7.3 liters to travel 100 kilometers and sprints in 11.5 seconds from 0 to 100 km/h. A maintenance-free diesel particle filter which requires no additives is standard. The 2.4 liter gasoline engine has an output of 103 kW/140 hp. This 4-cylinder engine features two overhead camshafts, a balance shaft with two rotating counterweights as well as an electronic throttle control. In 11.6 seconds it reaches a speed of 100 kilometers per hour from a standstill and needs 9.3 liters of gas to travel 100 kilometers.