Nissan Announces Production Of Livina, Grand Livina In Brazil
Nissan officially announced the start of production for its first passenger cars - Nissan Livina and Nissan Grand Livina - in Brazil.
Known here as a domestic manufacturer of 4x4 vehicles, including the Frontier, Xterra and New Frontier, Nissan Brazil will now add passenger cars to its manufacturing roster, with sales beginning in 2009. Carlos Ghosn, Nissan's president and global CEO, made the announcement during his visit to Brazil, together with Thomas Besson, president of Nissan Brazil. The Nissan Livina and Grand Livina currently are marketed worldwide in growing markets such as China, Indonesia and South Africa.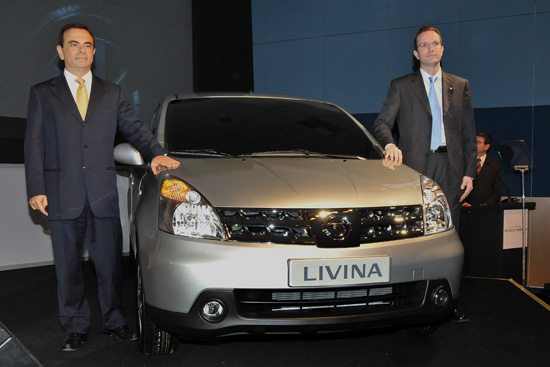 In order to respond to local market needs, the Livina family will be offered for the first time with a dual-fueled engine. This technology allows the customer to use gasoline, ethanol or any combination of both in the Livina.
Successful members of the Nissan global car family, the five-seat Nissan Livina and seven-seat Nissan Grand Livina are ideal for young families, offering versatility and excellent value. The two-row MPV Livina will be available with a 1.6-liter, 16-valve engine or a 1.8-liter, 16-valve engine and automatic or manual transmission. The three-row MPV Grand Livina will have a 1.8-liter, 16-valve engine, with a manual or automatic transmission. Both cars have a bold and modern look inside and out, and provide ample interior space to meet a variety of consumer needs.
Nissan Brazil now competes in segments that represent 17 percent of the total domestic market. With the introduction of the dual-fueled Livina family, Nissan will compete in segments totaling 30 percent of the Brazilian automotive market.
The Nissan Grand Livina and Nissan Livina will be produced in the Renault-Nissan Alliance Plant in the city of São José dos Pinhais, 15 kilometers south of Curitiba, State of Parana. The plant has production capacity to manufacture 50,000 vehicles a year.