Nissan Armada 8-passenger SUV: what should we expect from the 2017 model lineup?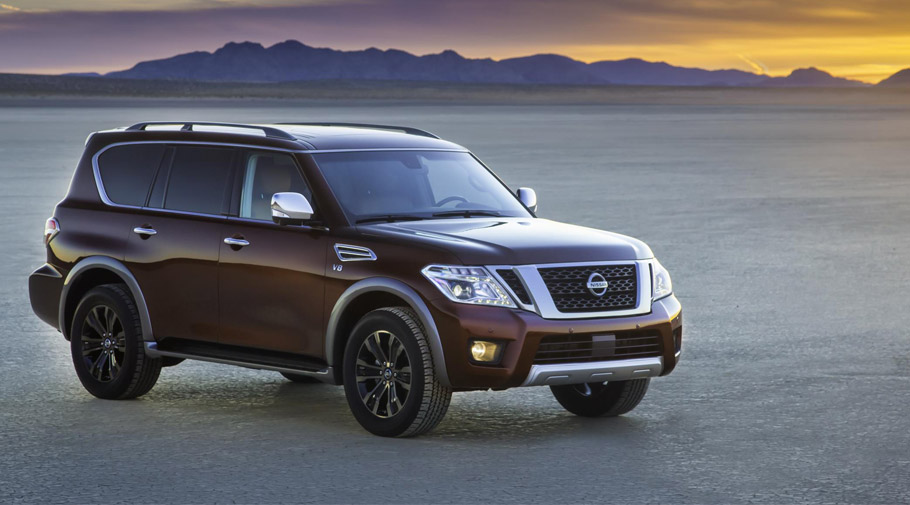 Nissan announces some more details for the 2017 Armada full-size 8-passenger SUV machine. Already on sale worldwide, this big thing has some big features to offer: there are a total of three customizable trim levels, SV, SL and Platinum that can be further specified with 2-wheel or 4-wheel drive system. And as we are talking about systems, the drivetrain system is a rather special one (or, at least, capable): buyers will be granted with a 5.6-liter Endurance V8 engine that produces a total of 390hp (291kW). This is just enough to get you and your seven friends at any destination without sacrificing smoothness, comfort or some high-speed action. Also, the 7-speed automatic gearbox will take care for engine revs and proper acceleration rates. Cool.
But this big guy is probably keeping some more cool features, along with the mighty engine system, right? Right. Of course, we got some boring, but extremely important stuff as Predictive Forward Collision Warning, Blind Spot Intervention, Backup Collision Intervention and some more safety features to keep you safe and clean. Safe for the most part.
2017 season year will witness the Armada showcasing Nissan's Navigation NavTraffic and NavWeather infotainment systems, improved and bigger color display, heated front seats and neat 13-speaker Bose audio system.
SEE ALSO: Nissan Pathfinder is ready for 2017 model year. And so believes NHTSA
Sweet thing is that the new Armada will keep the good stuff, featured in older models. This includes rugged body-on-frame construction, muscular and aggressive stance with neat V-motion front grille and LED low-beam headlights, bold LED taillight design and massive stance. Of course, these well-known features are blended with some modern-day styling and design tweaks here and there.
Prices for this tough guy start from $44, 400 USD
Stick with us for further information!
Source: Nissan