Nissan Lafesta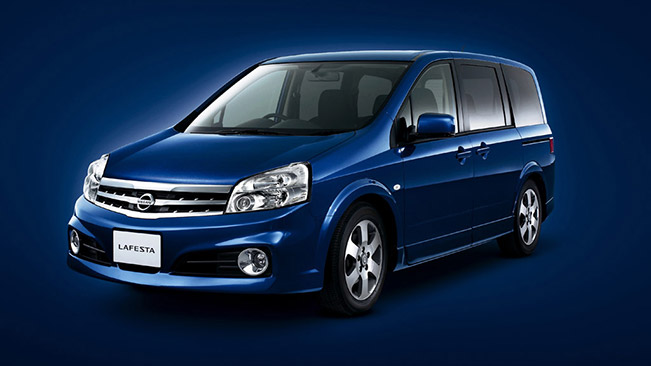 Nissan Motor Co., Ltd. today announced the nationwide sales release of the new Lafesta minivan in Japan. Lafesta, originally introduced in 2004, receives a number of significant refinements, including new grille, bumper and light designs; revised seat shape, seat fabric and gauge designs; and availability of an advanced HDD-based CARWINGS navigation system.
The Lafesta model lineup has also been revised. The Highway Star model again provides customers with a more sporty derivative, while the Playful model has been discontinued.
Easy to drive
The new Lafesta continues to offer an easy-to-drive combination of agile maneuverability and superior outward visibility, as well as excellent acceleration, quietness and fuel economy.
For those spending time in the city, Lafesta offers a class-leading 5.1-meter minimum turning radius and large windows that provide outstanding visibility to all corners of the vehicle.
Also contributing to Lafesta's reputation as one of the best-driving minivans on the market is its standard MR20DE 2.0-liter engine. Mated to the XTRONIC CVT (Continuously Variable Transmission), Lafesta delivers class-leading*1 fuel economy, quick throttle response, smooth acceleration and quiet overall operation.
A Refined exterior and high quality interior
The new Lafesta's exterior and interior enhancements have been designed with quality in mind.. On the outside, the grille, headlamps, front and rear bumpers and rear lamps have been redesigned, giving the standard models a more refined form, while the Highway Star model projects a crisper, sportier impression. An available panoramic glass roof*2, - measuring 1,500 mm in length and 800 mm in width - provides an open, airy feeling to the interior.
The new Lafesta is offered in a selection of seven body colors, including four all-new: Champagne Topaz titanium metallic, Sapphire Blue pearl metallic, Cerulean Blue metallic and Blade Silver metallic.
Inside, new seat fabric and other refinements give an upscale, modern feeling to the standard models and a sporty ambience to the Highway Star model. The redesigned seat shape, new seat and door trim fabric and increased head restraint size for the front and second-row seats add to Lafesta's enhanced level of craftsmanship.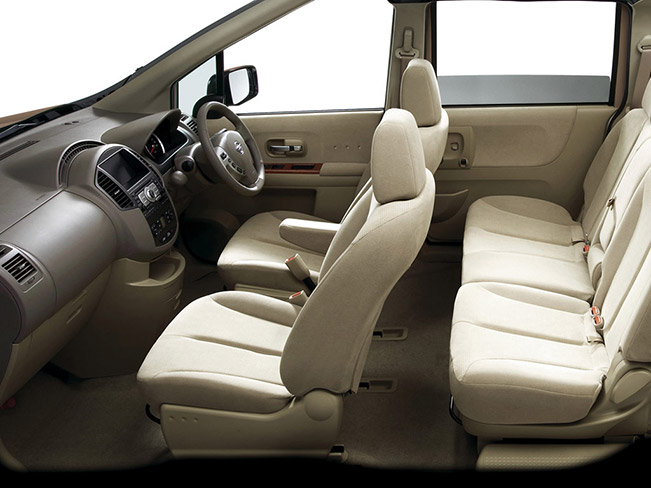 Lafesta's low instrument panel height and vehicle waistline combine with the large windows to provide a superb outward view from all seating positions. Silver-ringed gauges (with exclusive blue metallic-ringed gauges on the Highway Star) feature an elegant design and offer excellent legibility. Lafesta also adopts liquid-crystal-display odometer/twin trip meters showing real-time fuel consumption, average fuel consumption, range for remaining fuel and additional information. Nissan's HDD-based CARWINGS navigation system, with improved functionality, operating ease and fundamental performance, is available as a factory-installed option.