Nissan Pino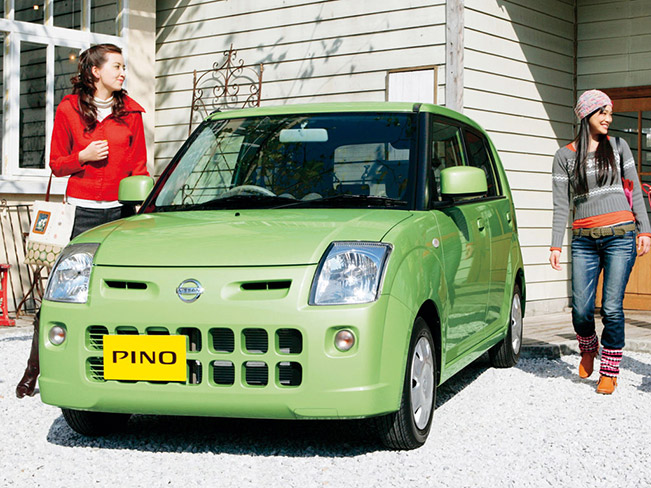 Nissan today announced the launch of the new Pino minicar at dealers across Japan. Nissan Pino, true to its marketing tagline of "Shift_lovely days," is an economical, easy-to-drive minicar, aimed at consumers looking for a personal vehicle that is ideal for everyday driving. As Nissan's fourth minicar model, along with Moco, Clipper and Otti, Pino expands Nissan's minicar lineup, giving customers more choices in this growing market segment.
Along with its low price and low fuel consumption - essential requirements of a minicar, - Pino is distinguished by its simple design that projects user-friendliness. Ease of ingress/egress is outstanding, and a class-leading minimum turning radius helps make the Pino practical and easy to drive. The car also comes with a variety of convenient features for everyday use, including a nearly flat floor luggage area.
Pino is supplied to Nissan by Suzuki Motor Corporation on an OEM basis. In conjunction with the Pino's release, Nissan is promoting a collaborative marketing program with Sony Plaza. The program is aimed at enhancing users' everyday enjoyment of their Pino. A core element of this program is an online "Web shop," Pinoshop.jp, which offers various goods and accessories for the car. Sony Plaza, operated by PLAZASTYLE Corporation, specializes in unique imported products.
Economical to Buy and Drive
A low price and low fuel consumption combine to provide low cost of ownership. The 2WD model fitted with a 3-speed automatic transmission achieves a fuel economy figure of 21.0 km/l. All 2WD and 4WD models fitted with a 5-speed manual transmission qualify for tax reductions under the 2006 Green Tax*1 program in Japan. The 2WD model with a 5-speed manual transmission is eligible for a tax reduction of 9,000 yen, while the 2WD models with either a 3-speed or a 4-speed automatic transmission and the 4WD model with a 5-speed manual transmission receive a tax break of 4,500 yen.
A Simple Design Projecting User-friendliness
The front-end has an engaging look with the distinctive Nissan signature grille design. This same design cue also distinguishes the Moco and Otti. The headlamps are a sharp, clean-cut form, while the stylish turn signal lamps combine square and round shapes.
The rear view continues the clean design form with character lines running from the roof to the bumper. The rear combination lamps and deep rear bumper complete the overall look of stability and clean style.
Pino's 13-inch full wheel covers feature an exclusive Nissan design combining square and round relief elements inspired by snowflake crystals. The car is fitted with 155/65R13 73S tires. The Pino comes in a choice of nine body colors, including Lime Green Metallic.
Comfortable to Drive and Use
Inside, Pino's seats are covered in an exclusive Nissan fabric, featuring a soft tactile feel and a milky caramel color. The dice pattern on the fabric has star-shaped dots, with the numbers lined up in the order of 3-6-5-2-4. This expresses the designer's wish for both the car and driver to stand out 24 hours a day, 365 days a year. E and E FOUR models are accented with a stylish door trim cloth made of the same material as the seat covers.
With its simple design and big numbers, the large-size speedometer can easily be read at a glance. The switch layout puts the climate and audio system controls within easy fingertip reach. A variety of storage spaces and compartments complete the strong interior package. On the E and E FOUR models, the side ventilators, shift knob button and inside door handles are embellished with a silver finish, accentuating the fine quality of the interior.
Outstanding ease of ingress/egress is provided by the large door openings, an instrument panel shape that allows extra knee room, and the low sill height. The driver's seat slides fore and aft 240 mm and is 16-way adjustable to ensure the optimum driving position. The large front and rear outward views combine with the large side mirrors to provide excellent visibility for enhanced driving ease.
The luggage area has a large, wide opening and the rear seat folds down to create a nearly flat floor, making it easy to load and carry large items. E and E FOUR models come with a 50/50 split folding rear seat that can be easily rearranged to accommodate the amount or size of luggage to be carried. A class-leading minimum turning radius of 4.1 meters contributes to the Pino's nimble maneuverability.
The Pino features Nissan's "Inner Green" interior concept that includes an antibacterial surface treatment and an interior air filter to maintain a clean, comfortable cabin ambience. The remote control entry system incorporates a back door release and a function for confirming the locked status of the doors. The audio system includes an electronically tuned AM/FM radio with an integrated CD player (one DIN size), two speakers and a digital clock. A navigation system is available as a dealer-installed option.
Smooth Performance, Superior Economy
Powering the Pino is inline 3-cylinder DOHC 12-valve K6A engine, which provides superior economy and quick acceleration from low speeds for easy, everyday driving.
The full-range electronically controlled 4-speed automatic transmission fitted on the E and E FOUR models has optimized gear ratios, enabling the 2WD E model to attain excellent fuel economy of 21.5 km/L. The transmission also incorporates a hill ascent/descent shift control function that prevents unnecessary shifting on uphill inclines, based on the vehicle speed and amount of accelerator pedal depression, and on downhill inclines in tandem with the driver's operation of the brake pedal.
S and S FOUR models come with a 5-speed manual transmission with a short shift stroke for a smooth shift feel. The front strut suspension and the isolated trailing link (ITL) rear suspension provide a smooth, comfortable ride combined with sure-footed handling and stability.
The 4WD models are fitted with a full-time 4WD system that automatically distributes the necessary driving force to the front and rear wheels according to the road surface condition and vehicle's dynamic state.
Safety and Environmental Performance
Standard safety equipment on all models includes SRS air bag systems for the driver and front passenger, a driver's seatbelt incorporating double pretensioners with a two-stage load limiter, a lightweight, impact-energy-absorbing body, and a brake system comprising Electronic Braking Force Distribution (EBD), Anti-lock Braking System (ABS) and Brake Assist (BA).
All 2WD and 4WD models fitted with either the 4-speed automatic transmission or the 5-speed manual transmission are certified as super ultra-low emission vehicles (SU-LEVs)*2. They reduce emissions by an additional 75% from Japan's 2005 exhaust emission regulations.
The 4WD model equipped with the 3-speed automatic transmission is certified as a U-LEV*2, emitting 50% fewer emissions than the 2005 emission standards. All 2WD and 4WD models fitted with the 5-speed manual transmission also qualify for tax reductions under the 2006 Green Tax*1 program in Japan.