2017 Nissan Titan Crew Cab can be yours for as low as $34,780 USD

Nissan announces pricing for the gasoline powered models
Today is Nissan's day, obviously. There is a lot of information coming from the Japanese automaker, and among it is the pricing list of the gasoline powered Nissan Titan models. The half-ton full-size pickup is powered by Nissan's new 5.6-liter Endurance V8 engine, and if you are keen on buying one, you should prepare at least $34,780 USD for the TITAN Crew Cab S 4x2. The detailed pricing list is featured below for those interested.
Those of you, who want something more powerful, will have to prepare approximately $1,500 USD above the mentioned price. We are speaking about the TITAN XD Crew Cab equipped with the 390-horsepower gasoline 5.6-liter Endurance V8 and the 7-speed automatic transmission.
SEE ALSO: Nissan Navara with Euro6 engines? It was about time! 
What is more, U.S. citizens will also enjoy Nissan's "America's Best Truck Warranty" for the 2017 TITAN and TITAN XD full-size pickups. This means that they will get a bumper-to-bumper coverage of 5-years or 100,000-miles. This great news is just part of company's "Year of the Truck" campaign and will include range of pickups, SUVs and CUVs, including the new Armada.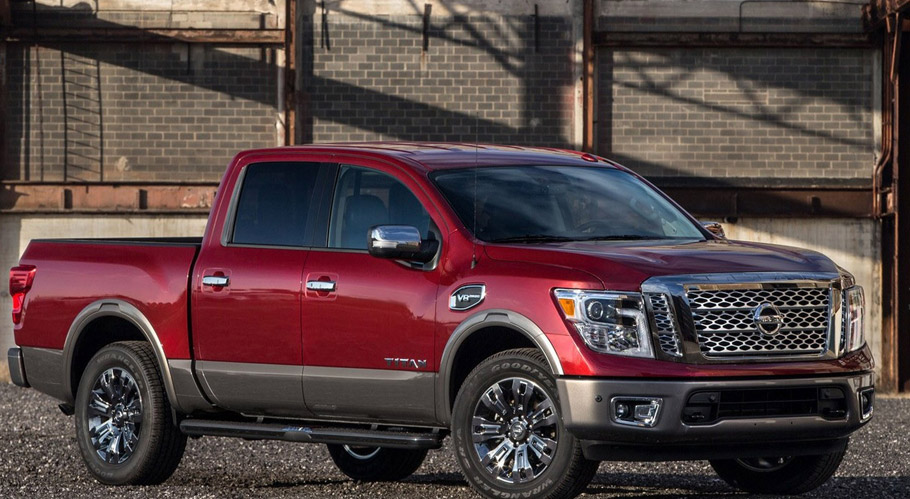 The range of 2017 TITAN and TITAN XD petrol powered models will be entering dealers later this month. Unlike the crew cab, which is powered by the 5.6-liter Endurance V8, the TITAN XD models are driven by the 310-horsepower Cummins 5.0L V8 Turbo Diesel. Their pricing will be announced at a later time this autumn.
Here's the pricing in details:
TITAN S Crew Cab 4x2                                       $34,780 USD
TITAN SV Crew Cab 4x2                                    $37,670 USD
TITAN SL Crew Cab 4x2                                     $46,380 USD
TITAN Platinum Reserve Crew Cab 4x2                $52,310 USD
TITAN S Crew Cab 4x4                                       $37,810 USD
TITAN SV Crew Cab 4x4                                    $40,700 USD
TITAN PRO-4X Crew Cab 4x4                             $45,020 USD
TITAN SL Crew Cab 4x4                                     $49,460 USD
TITAN Platinum Reserve Crew Cab 4x4               $55,400 USD
TITAN XD S Crew Cab 4x2                                 $36,290 USD
TITAN XD SV Crew Cab 4x2                               $40,200 USD
TITAN XD SL Crew Cab 4x2                               $48,460 USD
TITAN XD Platinum Reserve Crew Cab 4x2         $53,830 USD
TITAN XD S Crew Cab 4x4                                 $39,320 USD
TITAN XD SV Crew Cab 4x4                               $43,180 USD
TITAN XD PRO-4X Crew Cab 4x4                       $47,180 USD
TITAN XD SL Crew Cab 4x4                               $51,490 USD
TITAN XD Platinum Reserve Crew Cab 4x4         $56,910 USD
Source: Nissan