Novitec Rosso Ferrari F12 Berlinetta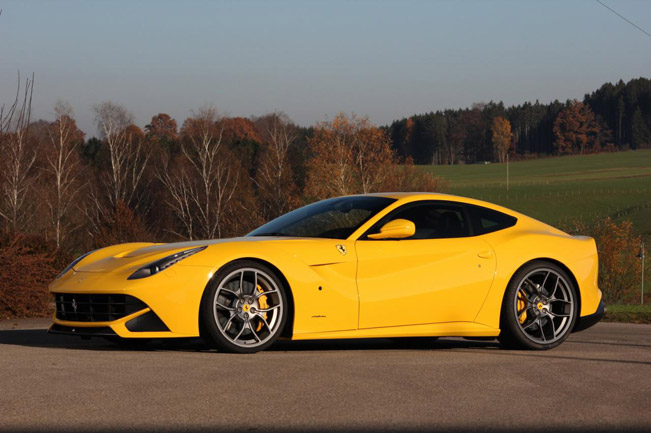 Novitec Rosso has introduced their latest project based on Ferrari F12 Berlinetta. The tuning company made the most powerful Ferrari, ever. The car's appearance and handling are further improved with NOVITEC ROSSO sport springs and high-tech forged wheels with diameters of up to 22 inches. Exclusive interior appointments round out the product line-up for the super sports car.
The 6.3 liter naturally aspirated V12 is boosted to whopping 764HP (562 kW) at 8,500RPM and the maximum torque is 703Nm (518 lb-ft) at 6,300RPM. Raising the redline speed to 8,900 rpm makes the spacing of the gears of the 7-speed F1 dual-clutch transmission working even better. This also benefits performance as evidenced by a new top speed in excess of 345 km/h (213 mph).
Other upgrades include electronically controlled sports exhaust system, which can be adjusted via the steering wheel. NICE!
The NOVITEC ROSSO NF4 9.5J x 21" wheels for the front axle are mounted with Pirelli high-performance tires in size 255/30 ZR 21. For maximum traction the rear axle is fitted with size 12J x 22" wheels, shod with size 335/25 ZR 22 tires.
The exclusive appearance can for the time be upgraded further with black NOVITEC ROSSO side markers that will be complemented with black tail lights in the near future.
NOVITEC ROSSO sport springs lower the ride height of the Ferrari by up to 40 mm, lending the car an arresting appearance and further enhanced handling as the result of a lowered center of gravity.
For added utility the German specialists equip the F12berlinetta with a lifting system for the front axle. At the push of a button in the cockpit the front of the car can be raised by 40 mm to facilitate navigating obstacles such as underground garage entrance ramps or speed humps. Upon reaching a speed of 80 km/h the suspension automatically reverts to its original position.
NOVITEC ROSSO also offers full individuality for the interior. The product program offers countless options from carbon-fiber shift paddles to exclusive Alcantara and leather interiors in any desired color or upholstery design.
Source: Novitec