Novitec Rosso Ferrari F12 N-LARGO - 781HP and 722Nm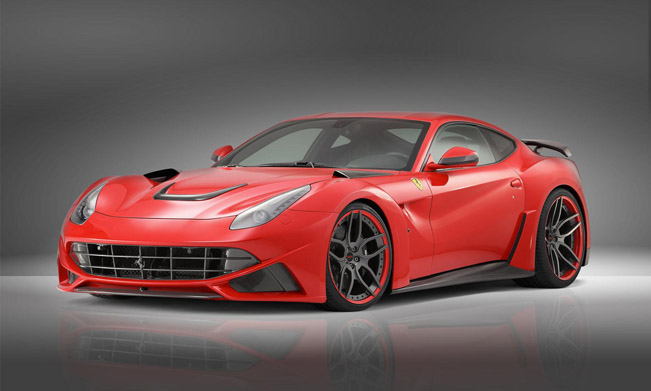 Novitec Rosso has announced their latest project called F12 N-LARGO based on the superfast Ferrari F12 Berlinetta. It comes with styling and performance modifications as well.
The exterior boasts an entire wide body kit including modified front and rear bumpers, a pair of revised side skirts and extended fenders. Other highlights include a front lip spoiler, a carbon fiber grille, 9.5J x 21" and 12J x 22" forged alloy wheels fitted with Pirelli P ZERO high-performance tires – 255/30 ZR21 and 335/25 ZR22, respectively. Last, but not least, NOVITEC fitted the F12 N-Largo with a big rear wing and tinted taillights.
The ride height is reduced by 40mm thanks to new sport springs. There is also an optional front lift system that raises the front axle by approximately 40mm to ease with going over speed humps.
The 6.3 liter naturally aspirated V12 is boosted to 781HP (574 kW) at 8,600RPM and 722Nm (532 lb-ft) of torque at 6,400RPM – an increase of 41HP (30 kW) and 32Nm (23 lb-ft). The result is thanks to an optimized ECU and a sports exhaust system.
Novitec Rosso also offers custom exclusivity for the interior. The cockpit can be designed in leather and Alcantara in any desired color.
Source: NOVITEC