Novitec's Spofec Refines the Refined Rolls-Royce Wraith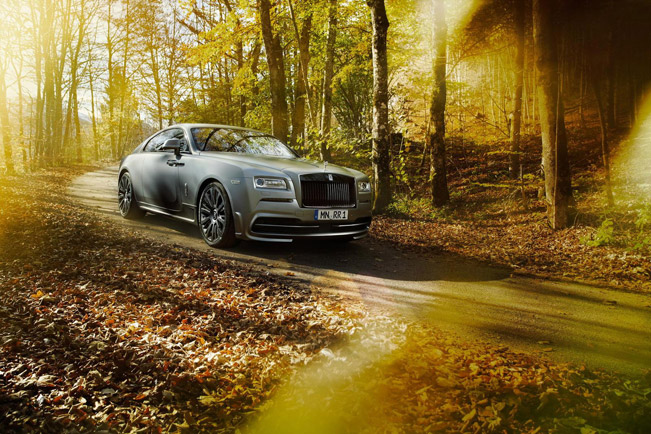 Do you remember Novitec's Spofec Rolls-Royce Wraith? The company has refined the car luxury further and with custom components, 22-inch wheels and lowered suspension. But this is not everything: there is also carbon-ceramic high-performance braking system and more importantly – boost for the engine, which now produces more than 700 horsepower. Spofec's stainless-steel sports exhaust system on the other hand features electronic sound management.
To go into details, tuning company's newly developed front carbon fiber bumper replaces the production one. Thanks to this it not only gives the Rolls-Royce more distinctive face, but also minimizes negative lift on the front axle. Two front flaps upgrade the grille in the bumper and make the car with more muscular appearance.
Next, the rocker panels are also new and they come to ensure lower and longer visual stance. The stylized air extractors behind the front wheel arches and the sweeping light-catching contour complement the sporty look.
At the rear we see carbon spoiler and new rear bumper as well as spoiler lip on the trunk. The mentioned wheels are under the designation SP1. They are with ten double spokes offset in two planes and come in sizes 9Jx22 at the front and 10.5Jx22 on the rear axle. The wheels are available in silver, matte black or titanium and are wrapped in Pirelli performance rubbers in sizes 265/35 ZR 22 and 295/30 ZR 22 for the front and rear, respectively.
The new air suspension features a special control module which lowers the ride height of the car by 40 millimeters at speeds below 140 km/h. At higher speeds the body automatically reverts to its original level.
In addition, the carbon-ceramic high-performance braking system includes vented discs that measure 405 x 30 and 395 x 38 millimeters respectively offers total weight savings of 38 kilograms.
What also has to be mentioned is the 6.6-liter V12 engine which received a boost and now involves the integration of a processor-controlled plug-and-play N-TRONIC module into the engine electronics. The result is a maximum power output of 717 hp (527 kW) and 986 Nm (728 lb-ft).
This of course means faster acceleration which in this case is measured at 4.2 seconds for the 0-100 km/h sprint. The top speed remains limited to 250 km/h. At last, the stainless-steel sports exhaust systems saves up to five kilograms and features electronic sound management which can be remotely controlled from the cockpit.
Source: Novitec