Rolls-Royce with a 'dark and edgy' presence on the famous Hillclimb
Rolls-Royce to reveal two Black Badge special editions
This year Rolls-Royce is about to reveal two special editions at Goodwood. They come rather unexpectedly and what's even more impressive is the additional power added to their output. Based on the Wraith and Ghost, both limited edition vehicles carry the name Black Badge and share many similarities. With its uncompromised presence they evoke dark and edgy thoughts, but at the same time bring about the calm feeling of safety and affluence.
The name of the exterior color of both cars, Black Badge, brings about more assertive, but demanding aesthetics. I can even say that it somehow has a transformative effect on the appearance and essence of the Wraith and Ghost, which I'm very fond of. It seems that the color plays with the subconscious and the reason is probably the specific way of laying the paint. Precisely, multiple layers of paint and lacquer have been repeatedly applied and then hand polished. Since this is a solid color, the effect ends being deep, dark and extremely intense.
SEE ALSO: Rolls-Royce Black Badge: Taken to the Extremes 
What's common between both models (beside the exterior paint finish) is the facia inside which comes in what Rolls-Royce calls "aerospace-grade aluminium-threaded carbon fibre composite surfacing". Moreover, both models have been specifically built for the event. Other cool features include "Spirit of Ecstasy" in high-gloss black vamp as well as Double R "inverted" badges and the 21-inch carbon alloys. The traditional chrome surfaces have been turned dark: take a look at the front grille surround, boot lid finisher, lower air inlet finisher and exhaust pipes.
Wraith Black Badge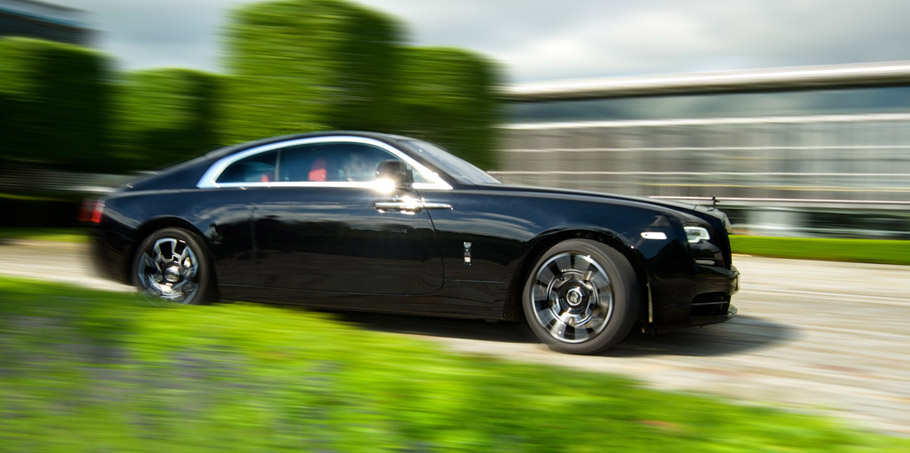 This luxury model will go for a Supercar Run up the hill and in between Hillclimbs in the Supercar Paddock. Its torque has been enhanced with 70 Nm, while the horses stay the same, 642 hp (465 kW). More spirited driving is ensured by the custom air suspension and upgraded gearbox. On the inside, Wraith Black Badge is adorned by Black and Mugello Red leather.
Ghost Black Badge
This one will be Rolls-Royce's Course Car. The Ghost Black Badge benefits from a power increase too: it packs an additional 40 hp and 60 Nm, making a total of 603 hp (450 kW). More upgrades have been made to the 8-speed automatic transmission and to the interior, which comes in special Black and Cobalto Blue contrast leather.
And if you happen to be at Goodwood, make sure to use the hashtag #BlackBadge when tweeting Rolls-Royce content. You might get noticed.
Source: Rolls-Royce