Nurburgring Trackday: Ferrari 458 Challenge Making Some Noise [VIDEO]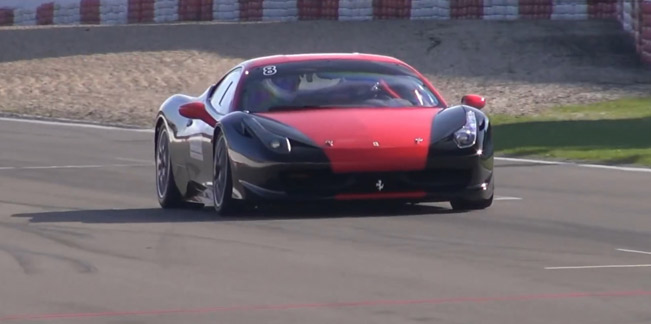 Here's our nomination for the "Best Original Score" award at the Oscars. We highly doubt it's going to make the cut, but frankly we don't care. It's a Ferrari 457 Challenge producing a brilliant soundtrack around the Nurnburgring in Germany.
It's videos like these that remind us what a tiresome life gearheads around the world are leading. Someone actually had to put this (road-illegal) Ferrari on a semi-trailer, tow it to the track, unload it, fiddle with it, have a go, fine tune it, have a go again, set a lap-time, load again and go home.
The 457 Challenge was first introduced back in 2010. It's the latest of a series of racing cars for enthusiasts. It's thinner body panels, carbon fiber bits and polycarbonate windows and windshield make it much more lighter than the road-going 458. It also has a racing cockpit, an integrated air-jack at the back, a racing filler cap and racing rims. In other words, it's the real deal even though there are no power boosts over the original. Looks good too.
See for yourselves:
Source: Gumbal via YouTube