Opel Zafira 1.6 CNG Turbo: First Turbo-charged CNG Van
The most powerful natural gas-propelled vehicle premieres in December when Opel presents its first Compressed Natural Gas compact van with a turbo-charger at the Bologna motor show (December 5 to 14, 2008).
The new Zafira 1.6 CNG Turbo has an output of 150 hp and a top speed of 200 km/h but consumes only 5.3 kg of natural gas per 100 km in the MVEG cycle, emitting just 144 g/km of CO2.  That means 60 percent more horsepower for a difference of only 6 grams in emissions than the naturally aspirated model. The new Zafira 1.6 CNG Turbo will reach markets starting in January 2009.
With this latest model, Opel once again offers eco-friendly driving without compromising performance. Nor does driving a seven-seater have to be expensive. CNG is a clean fuel that is inexpensive to drive: Only 5.3 euros per 100 kilometers in Germany.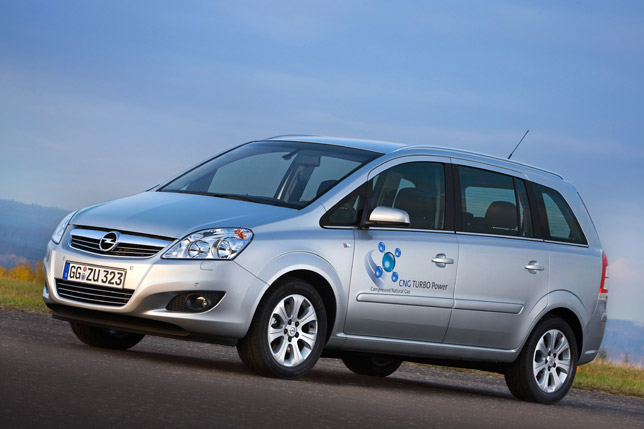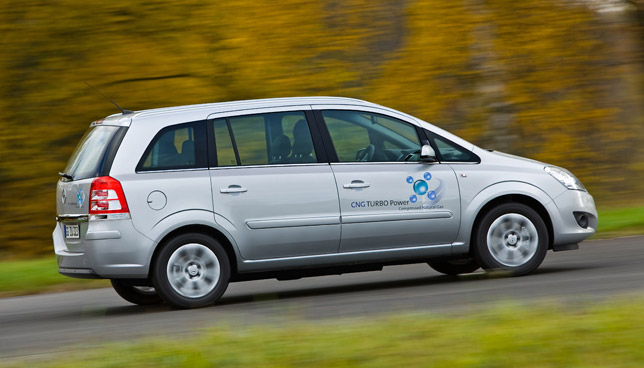 On average, the cost of driving 100 kilometers with a CNG vehicle is roughly 50 percent lower than a comparable car running on petrol. The cost of driving CNG will also remain inexpensive in the long-run, compared with other fuels because many European governments are committed to further promote CNG vehicles through tax support systems.
In 2001 Opel pioneered the CNG propulsion with the innovative monovalentplus technology, in which the motor is optimized to primarily operate on natural gas, but could also run on gasoline. The Zafira CNG Turbo 1.6-liter engine is designed to run on either natural gas, bio-methane or any mixture of the two. The unit is provided with special pistons, valves and valve seats, plus separate injection systems for natural gas and gasoline. In gas mode alone, the vehicle can drive up to 370 km, while the 14-liter reserve gasoline tank provides an additional range of 150 km for maximum flexibility. A maximum torque of 210 Nm at only 2.300 rpm will ensure plenty of power in all situations.
Thanks to the intelligently designed underfloor arrangement of the four gas tanks around the rear axle, the Zafira's interior fully retains all its advantages in terms of variability and space. Like its sister models, the 1.6  CNG Turbo boasts the unique Flex7 seating system, enabling the interior to be quickly converted from a seven-seater to a two-seater without any complicated procedure of removing the seats.
CNG is one of many alternative propulsion strategies being pursued by Opel and its parent company General Motors as part of a wider move to reduce CO2 emissions and diversify world fuel supplies.
More than 75,000 natural gas-propelled vehicles have been sold on the five largest CNG markets (Germany, Italy, Sweden, Austria and Switzerland) in Europe in the first nine months of this year – nearly as many as in all of 2007, in which 82,000 CNG vehicles were sold. In total, Opel has built more than 58,000 natural gas vehicles, making the brand the second largest producer of CNG models in Europe.
Some 26 percent of all CNG vehicles registered in Europe the first nine months of this year are compact vans. Opel expects its share in that market to increase because the turbo variant is geared not only to individual buyers, but taxi and commercial fleets as well.
At present, Opel's CNG model range includes the Zafira 1.6 CNG ecoFLEX with 94 hp and the Combo 1.6 CNG ecoFLEX also with 94 hp. In Italy, the largest single market for CNG vehicles, an especially high number of Zafira CNGs are on the road.  In 2007 alone, more than 6,600 units of the CNG compact vans were sold there.