How to make your Mercedes-Benz GLE AMG stand out even more with a single step

OXIGIN offers simple way to boost the appearance of the GLE
Mercedes-Benz GLE has been revealed last summer and it immediately became the rival of the popular BMW X6. Sharing even almost the same exterior, both large SUVs are now becoming strong part of the automotive market. Nearly five meters long and having over two-tons of weight, the GLE Coupé makes a strong visual impact with its sleek and fastback proportions. For this reason, people are looking for ways to enhance their cars, and if you have to think of the simplest one, it is of course - changing the wheels. 
The alloy wheel specialists at OXIGIN, have the perfect offer: they have created various good-looking wheel designs to fill out the big arches of the massive GLE. On the images you will see in the gallery the AMG vaiant of the SUV, has been equipped with 10.5 and 11.5x21-inch sized wheels in classic five-spoke OXIGIN 18 Concave design. They also sport Black Full Polish finish and are shod with appropriate tires sized 275/45ZR21 and 315/40ZR21 at the front and rear, respectively.
SEE ALSO: LUMMA Design to Present Mercedes-Benz GLE Coupe CLR G 800 in Frankfurt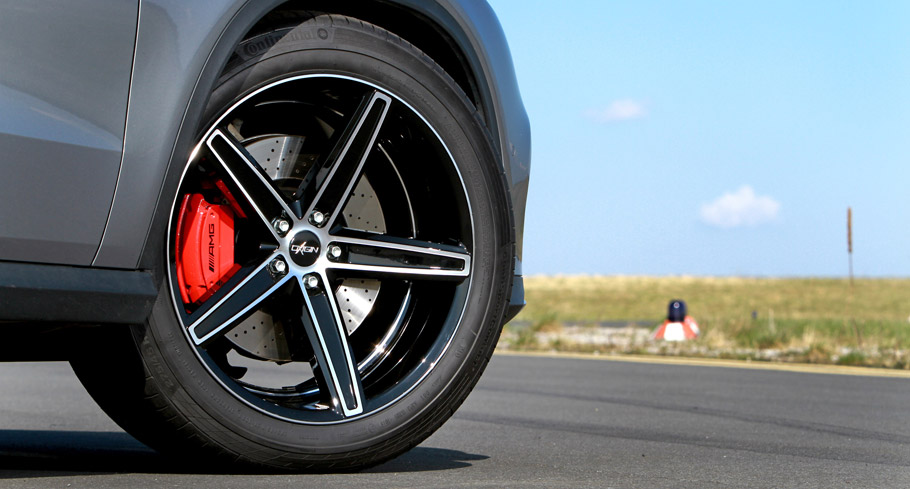 By the way, OXIGIN 18 Concave can be specified in other dimensions ranging from 7.5x17-inch, through 18, 19, 20 and 21-inch, and culminating in the massive 10.0 and 11.5x22-inch sizes. In addition, to make the GLE even brighter, the specialists are offering various variants of finish options besides the Black Full Polish. These include Black and Graphite Full Polish, Extra Colour finishes, Colour Polish, Neon and Bicolour finishes.
Among the wide range of alloys and besides everything, the driver of this GLE AMG will enjoy the V6 petrol engine with a direct injection, which delivers 367 HP (270 kW) at 5500 rpm and a peak torque of 520 Nm (384 lb-ft) at 1400-4000 rpm. It is mated to a DYNAMIC SELECT transmission, which has a SPORT+ mode offering exceptional driving qualities and bringing high levels of adrenaline.
Source: OXIGIN